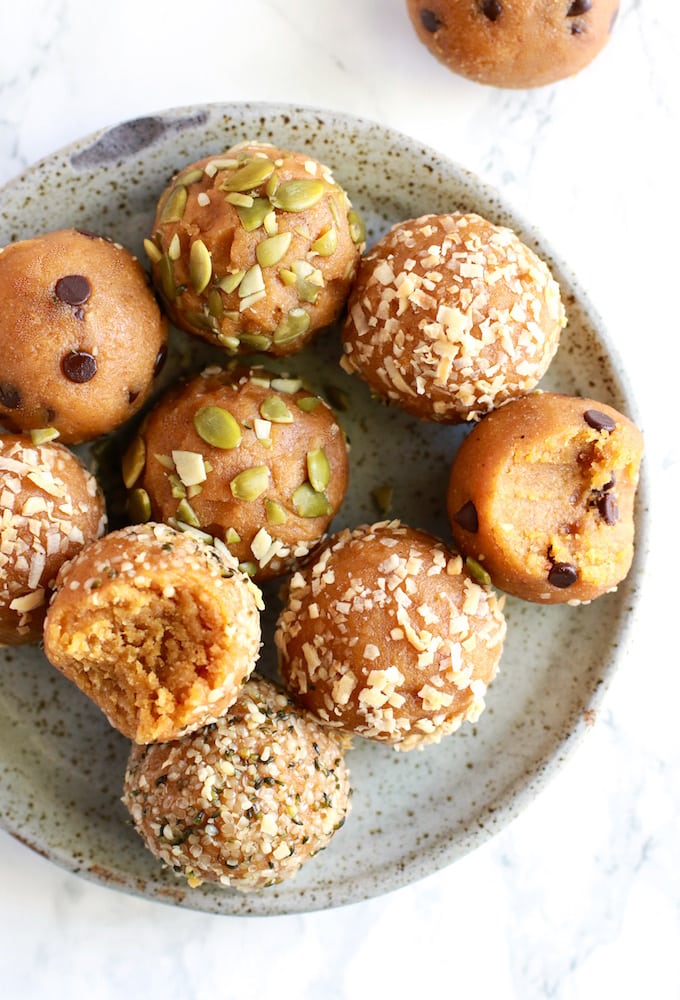 There's always been a debate among food bloggers whether pumpkin recipes should be posted before October or not. I usually lean to the side that says wait until October only because pumpkin makes me think of Halloween and Thanksgiving and that means we are getting much closer to full-blown snowy winter. Well, I'm totally breaking my own rule and joining the other side that says "Make all the pumpkin recipes and share them NOW!", because I just couldn't wait any longer to share this one!
I gave you all a sneak peek of these delicious pumpkin pie energy balls in my last post when I included them as part of my easy meal prep. These energy balls truly make the perfect snack and even though they are pumpkin pie flavour, I'll let you in on a little secret… you can make them any time of year! Just get a can of pumpkin puree and some pumpkin pie spice and you probably have all the other ingredients you need right in your fridge or pantry!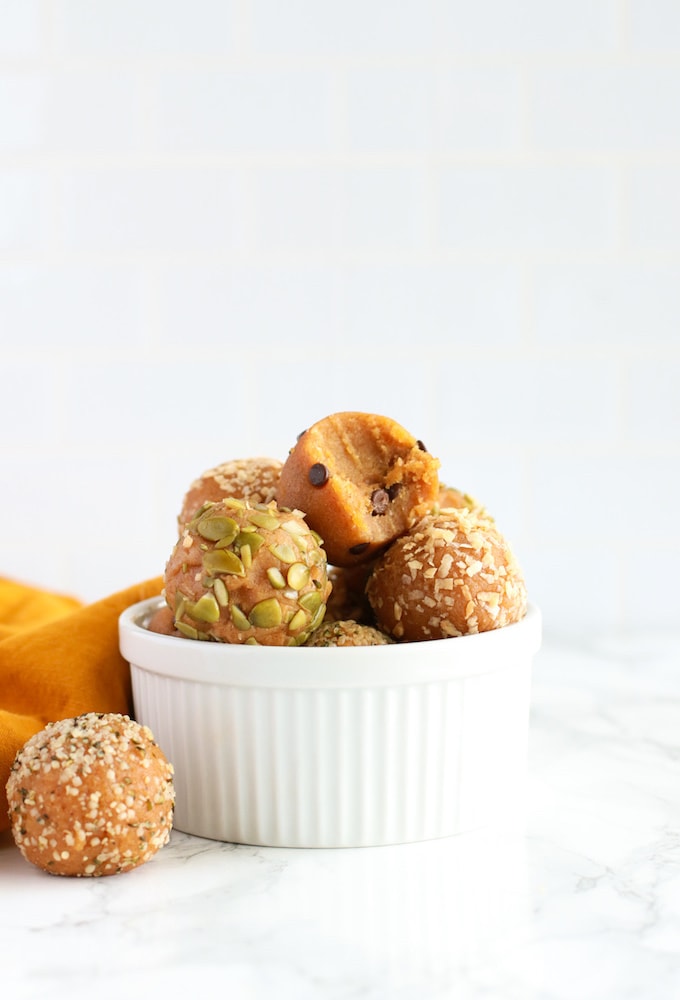 These healthy energy balls are, as the title suggests, full of pumpkin, spiced to perfection, and contain a great combination of cashew butter, oats, almond flour, vanilla, coconut oil, and pure maple syrup which create a delicious rich and decadent texture, but there's one more ingredient that really takes these energy balls to the next level…sea buckthorn!
Sea buckthorn also known as sea berry, is a resilient little fruit that grows in the Himalayas containing an array of nutrients. It is known to be the world's richest source of Omega-7, an essential fatty acid (which is hard to come by!) that promotes collagen production, healthy skin, hair and nails and has other fantastic health benefits. We always hear so much about Omega 3,6, and 9 (which sea buckthorn is also rich in), but not so much about Omega-7!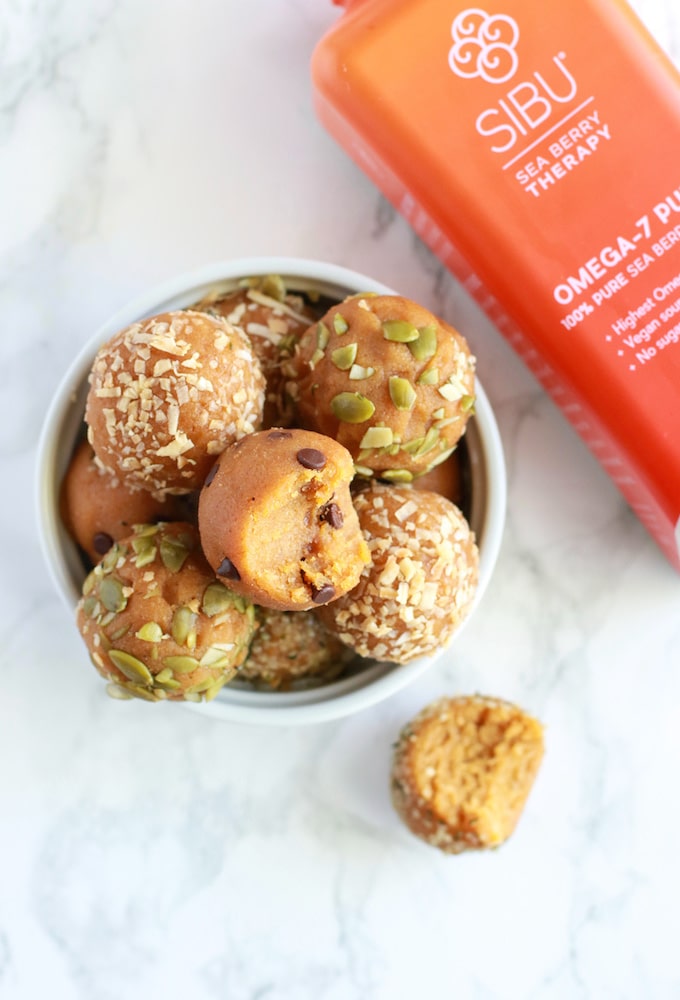 The Omega-7 in these tasty pumpkin pie energy balls comes from SIBU's Omega-7 Pure sea berry puree which I added in with the other ingredients. The puree helps to promote energy levels, boost cardiovascular health, provide joint support and reduce inflammation, and of course support skin health.
Sea berries have actually been traditionally used to help rosacea and eczema as well. I've been using SIBU's beauty products as well as the puree over the past couple of months and my skin has been handling the change of seasons exceptionally well. My skin tends to get really dry and break out when fall and winter roll in (another reason why I should just live in Hawaii!) but the SIBU facial cleanser and body cream have really helped. I can't say I've used products rich in Omega-7 in the past so I think that's what's making such an improvement in my skin!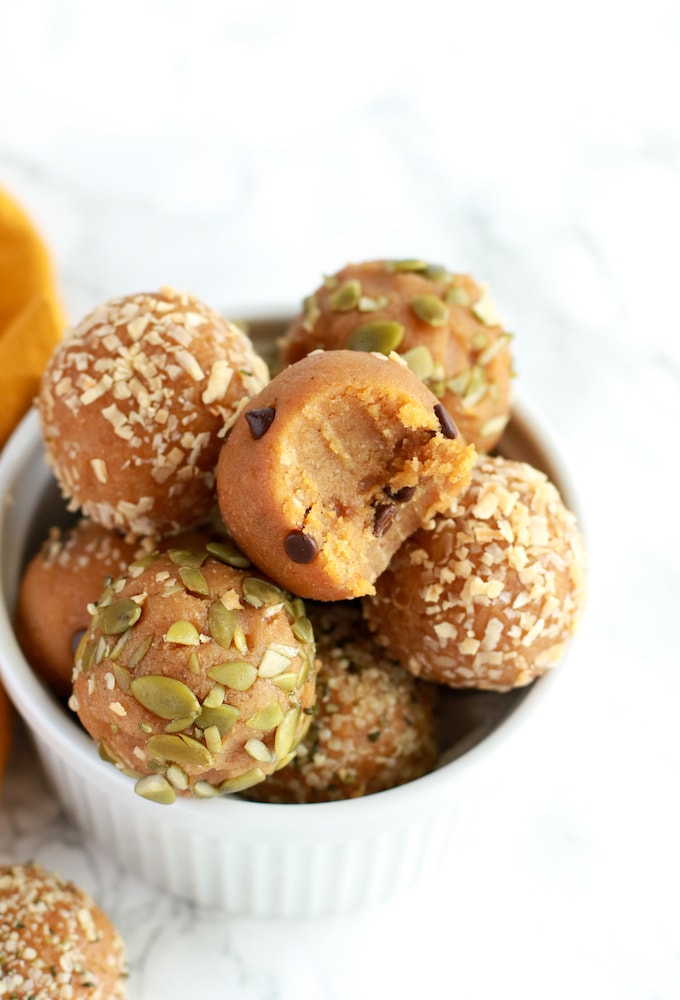 While these pumpkin pie energy balls can be made without the sea berry puree, it's definitely worth adding in not only for the nutritional benefits, but the berry puree adds a wonderful tart flavour and amps up the orange hue making these balls look really pumpkiny!
I made this recipe as an adaptation of my 5-ingredient cookie dough energy balls, so if you've made those already you'll know just how easy-to-make this pumpkin pie version will be. Just a quick mix of the ingredients in a big bowl to make the pumpkin pie batter, roll the batter into balls, roll the balls in your coatings of choice (I used toasted coconut, crushed pumpkin seeds, hemp seeds, and dark chocolate chips) and freeze to set.
Voila! Fall flavours in healthy energy ball form waiting to be devoured.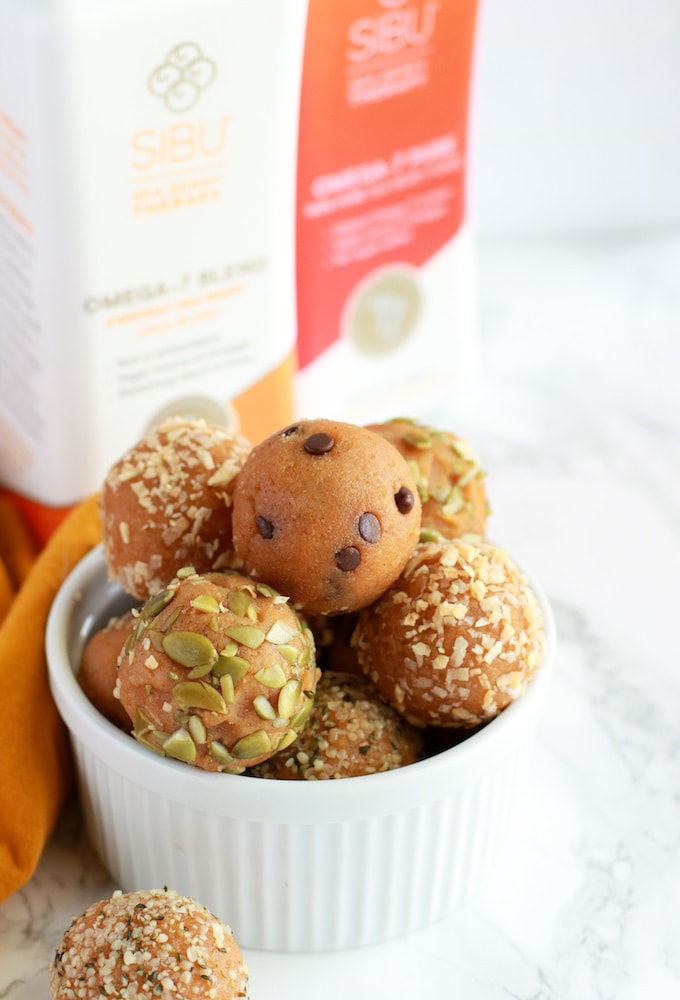 I'd love to know if you've heard of Omega-7 and the benefits of this essential fatty acid and if you've ever tried sea berries before. Tell me about it in the comments below! 
If you have yet to try sea berries, you can head to SIBU and check out their berry purees as well as their line of sea berry beauty products. Like I said, in the past couple of months I've definitely noticed the benefits of these omega-7 rich products in my skin and have had fun experimenting with the berry puree in recipes. Even with the sea berry puree's naturally tart taste I've been able to add it undetected to smoothies and even get Hemsley (my 16-month old toddler) joining in on the Omega-7 goodness!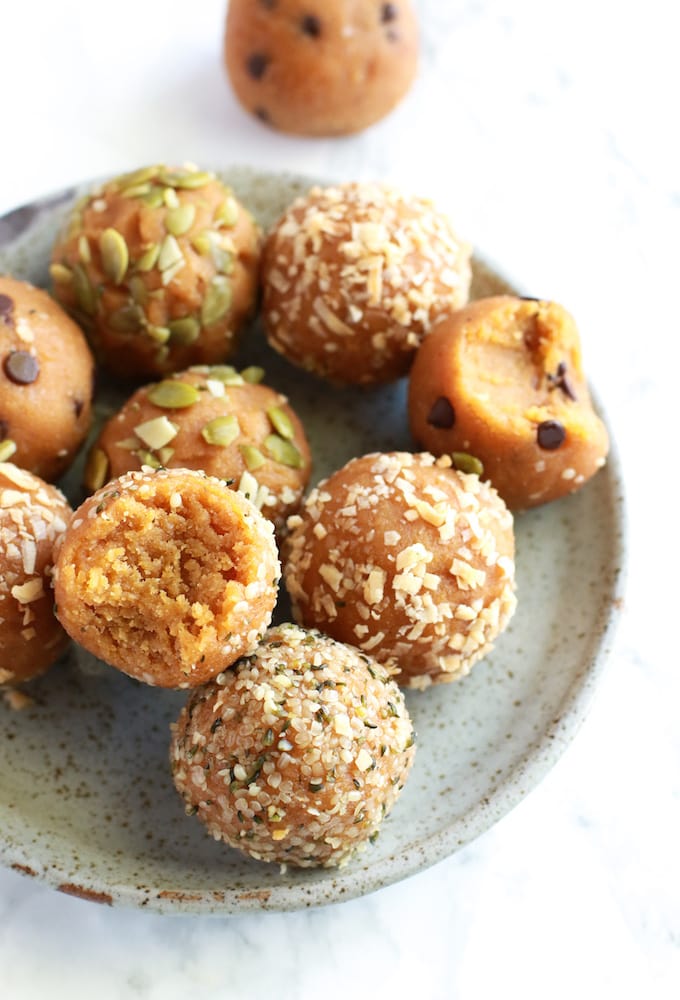 If you live in the US you can head to SIBU's website and use code NITK to get 25% OFF of your order (yay!) so that you too can experience the benefits of sea buckthorn. If you live in Canada, you'll find these same products under the brand name Sea Berry Therapy and you can purchase the products on Well.ca (if purchasing through Well use code WELL10 to get $10 off your order of $40 or more, and receive free shipping)!
Also, be sure to pin the photo below to save this tasty pumpkin pie energy balls recipe for later and share the love!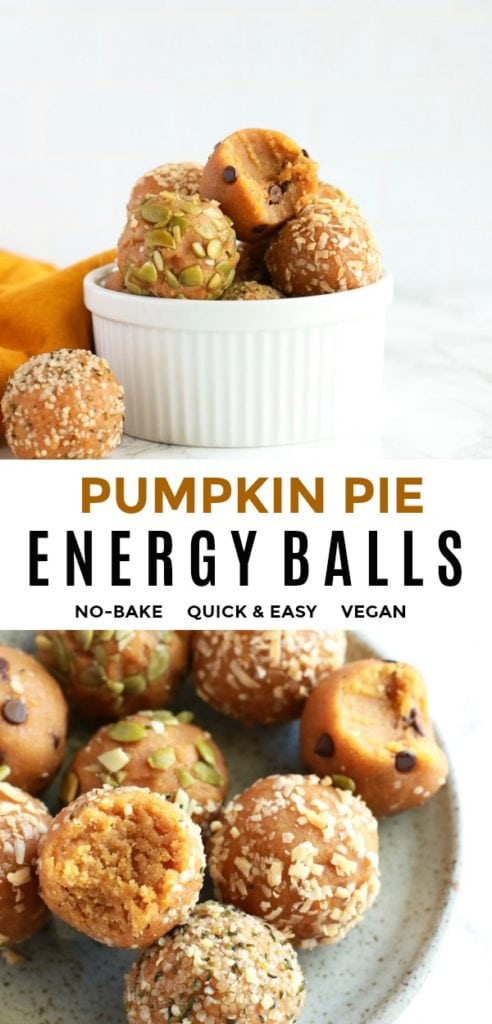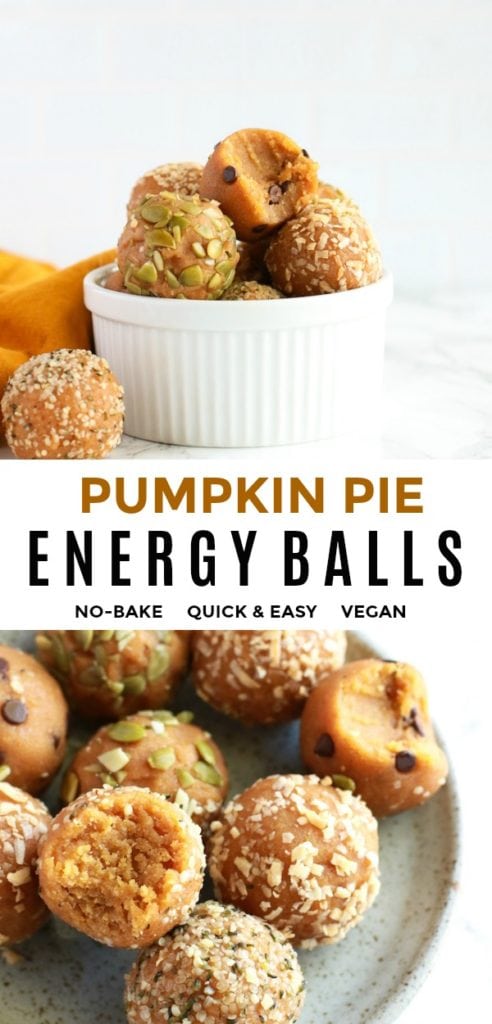 Pumpkin Pie Energy Balls
Ingredients
1¾ cups almond flour
¾ cup gluten-free rolled oats (pulsed into flour) or oat flour
1 tsp pumpkin pie spice
3 tablespoons pure pumpkin puree
2 tablespoons SIBU sea berry puree*
¼ cup cashew butter
2 tablespoons melted coconut oil
3 tablespoons pure maple syrup
½ tsp vanilla
Optional Ball Coatings:
¼ cup hemp seeds
¼ cup crushed pumpkin seeds
¼ cup dark chocolate chips
¼ cup toasted coconut flakes
Instructions
Pusle or blend the rolled oats in a food processor or blender until fine like a flour, then remove and add to a large bowl.
To the bowl add the almond flour and pumpkin pie spice and mix to combine.
In another bowl combine the cashew butter, pumpkin puree, sea berry puree, melted coconut oil, maple syrup, and vanilla and mix until smooth.
Pour the wet into the dry mix and stir everything to combine until you have a cookie-dough batter consistency.
Roll the batter into golf-ball sized balls using clean, slightly wet hands.
Set each ball onto a large cookie sheet or plate and repeat until you have 10-12 balls total.
If you are coating the balls, spread the coating ingredient over a plate and roll the balls to coat (as another option you can stir the coating ingredients into the ball batter!)
Place the balls in the freezer to set for 30-minutes.
Enjoy!
Notes
*These energy balls work without the sea berry puree if you are not using, the texture will just be slightly drier (and you won't get the same Omega-7 benefits!)
Have a wonderful Sunday!
Christal // NITK
DISCLAIMER: THIS POST WAS SPONSORED BY SIBU BEAUTY BUT AS ALWAYS THE THOUGHTS AND OPINIONS ARE MY OWN. THANK YOU FOR SUPPORTING THE LIFE AND GROWTH OF NUTRITION IN THE KITCH!