A delicious and healthy take on traditional beet soup made vegan and super fast in a blender. Loaded with dill and swirled with a cashew cream it's velvety and so tasty!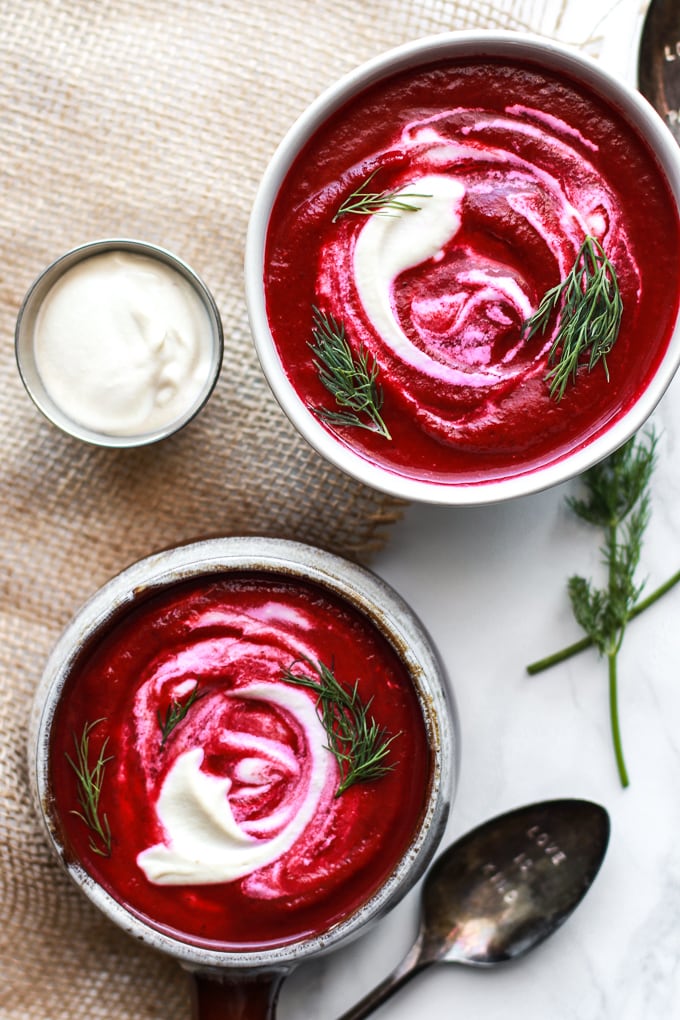 Healthy & Creamy Beet Soup
The first post I ever published on Nutrition in the Kitch was borscht, my Baba's Borscht. I have a huge sentimental attachment to this soup as some of my greatest memories are when our family would pack up into the minivan and venture on a 12-hour car ride through the Canadian prairies to visit my sweet little Baba (Ukrainian grandmother) in Manitoba during the summer. She would always make us this warm, cozy beet soup among many other amazing Ukranian dishes.
As a young child I actually wouldn't have anything to do with it! Pink soup? No way. But, as I got a little older and into my teen years, I definitely developed a taste for beet soup. I couldn't wait to visit Baba to give her a huge hug and enjoy her borscht. I also recognized the care and attention that my Baba put into her cooking, which made me love it even more.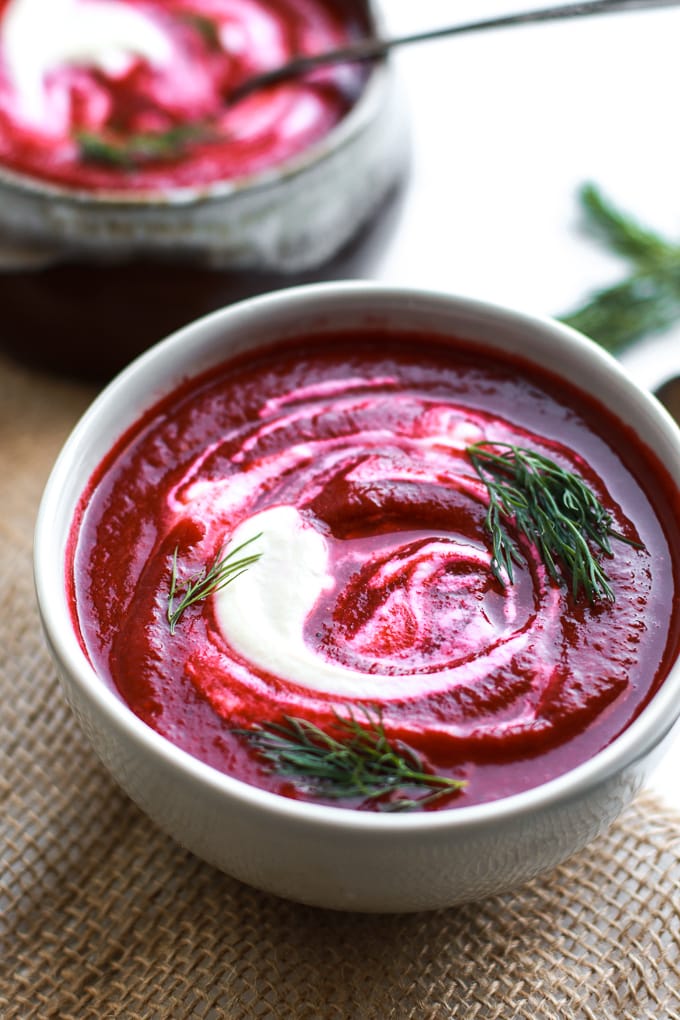 Is borscht soup healthy?
Aside from the common addition of sour cream or heavy cream, borscht is a very healthy soup. It's packed with vegetables including the star ingredient – beets, which are loaded with antioxidants, phytonutrients, and vitamins and minerals.
As for other health benefits, the soup is packed with immune-boosting garlic, and bacteria-fighting dill!
Ingredients for Beet Soup:
To make this delicious and creamy soup you need a simple combination ingredients listed below:
raw beets (or you can use the pre-cooked beets in the fresh produce aisle – not canned)
carrots
onion
garlic
dill
salt & pepper
vegetable broth
almond milk or cashew milk (unsweetened)
tomato paste
lemon juice
sugar
pickle juice (the secret ingredient!)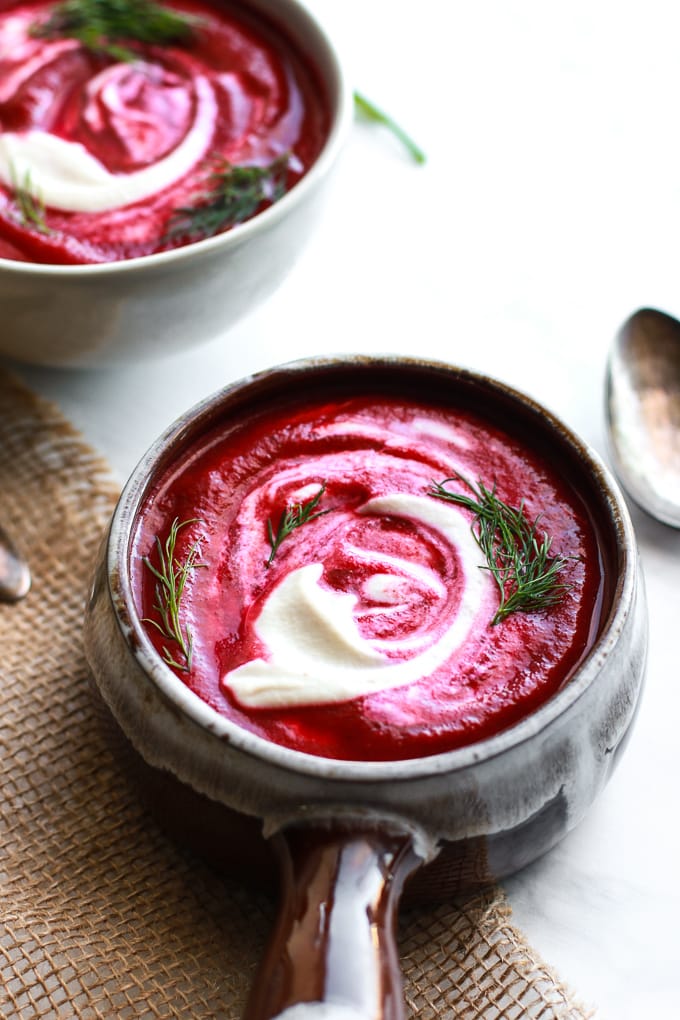 How To Make Beet Soup in a Blender:
To make this creamy, velvety beet soup the key is using a high speed blender. While I love traditional borscht that has chunks of beets, carrots, and other vegetables in it, I am a big fan of this blended version and it doesn't require meticulous chopping.
Here's what you'll do:
1/ peel and steam the beets ahead of time (you can also buy pre-cooked beets that come in a package to save time).
2/Saute onions, carrots, garlic, salt, and pepper in a large pan until soft.
3/ Add in beets, dill, tomato paste, sugar, and stir until heated through.
4/ Add in pickle juice, lemon juice, and non-dairy milk and heat through.
5/Transfer everything to a high-speed blender and blend on low increasing to high until smooth.
6/Divide hot soup between bowls and serve with dill and a tablespoon of sour cream, yogurt, or vegan sour cream.
For this revamped version I also made Oh She Glows Vegan Cashew Sour Cream to top the soup and swirl in for that added creaminess!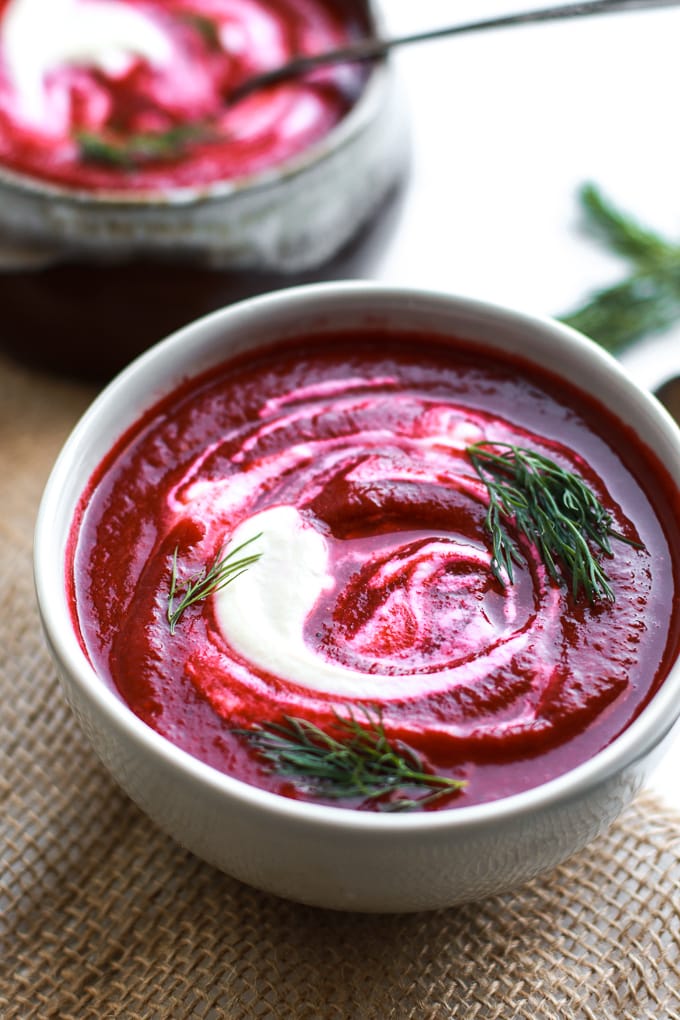 What does beet soup taste like?
This soup has a slightly sweet, slightly savoury earthy flavour that is subtle but satisfying. The beet flavour shines through and compliments the dill perfectly.
The lemon and pickle juice add a delicious touch of tanginess and sour that balances out the creamy almond milk and garnish.
This past week I made this blender beet soup for Justin and we enjoyed it with baked garlic sausage and locally made vegan perogies…even Hemsley was a fan!
As I sat there and enjoyed my beet soup I thought about my Baba. While she's no longer with us, I'm sure she was smiling down on us and is enjoying her own endless supply of borscht up there in the heavens!
Be sure to pin the photo below to save this delicious beet soup recipe for later, and of course share the love…Baba thanks you, haha!
Pin me!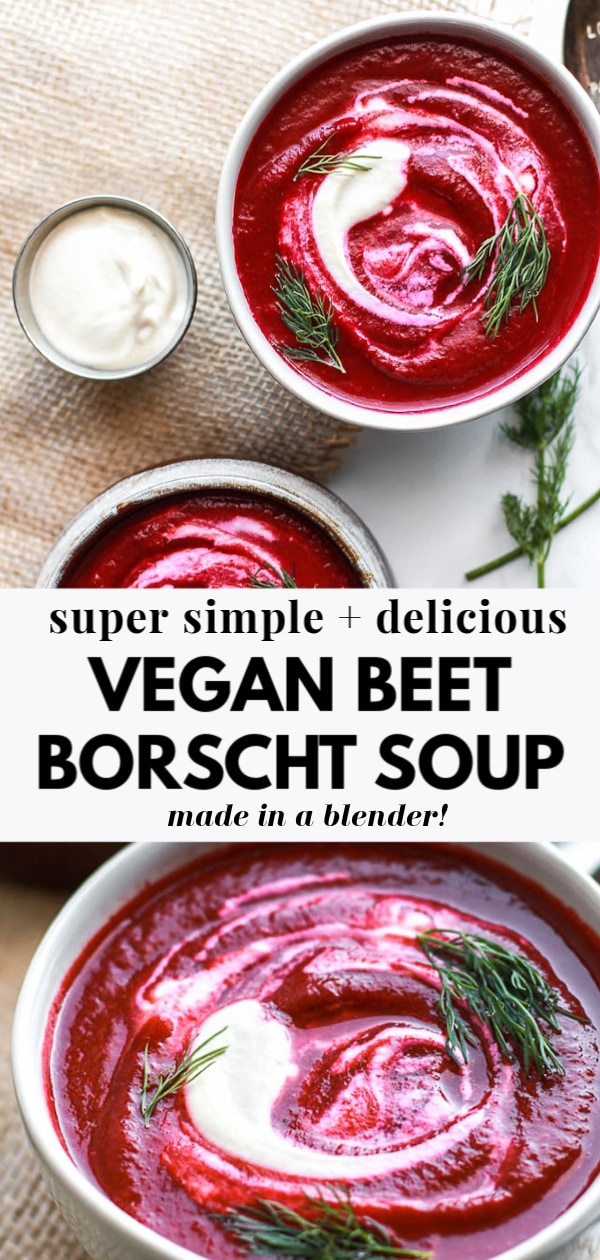 Have a wonderful Sunday,
Christal // NITK