This delicious, simple, and healthy instant pot chicken rice soup is warming, nutritious, and incredibly easy to make in the instant pot. It's gluten free, dairy free, and high in protein. Super fast clean up too!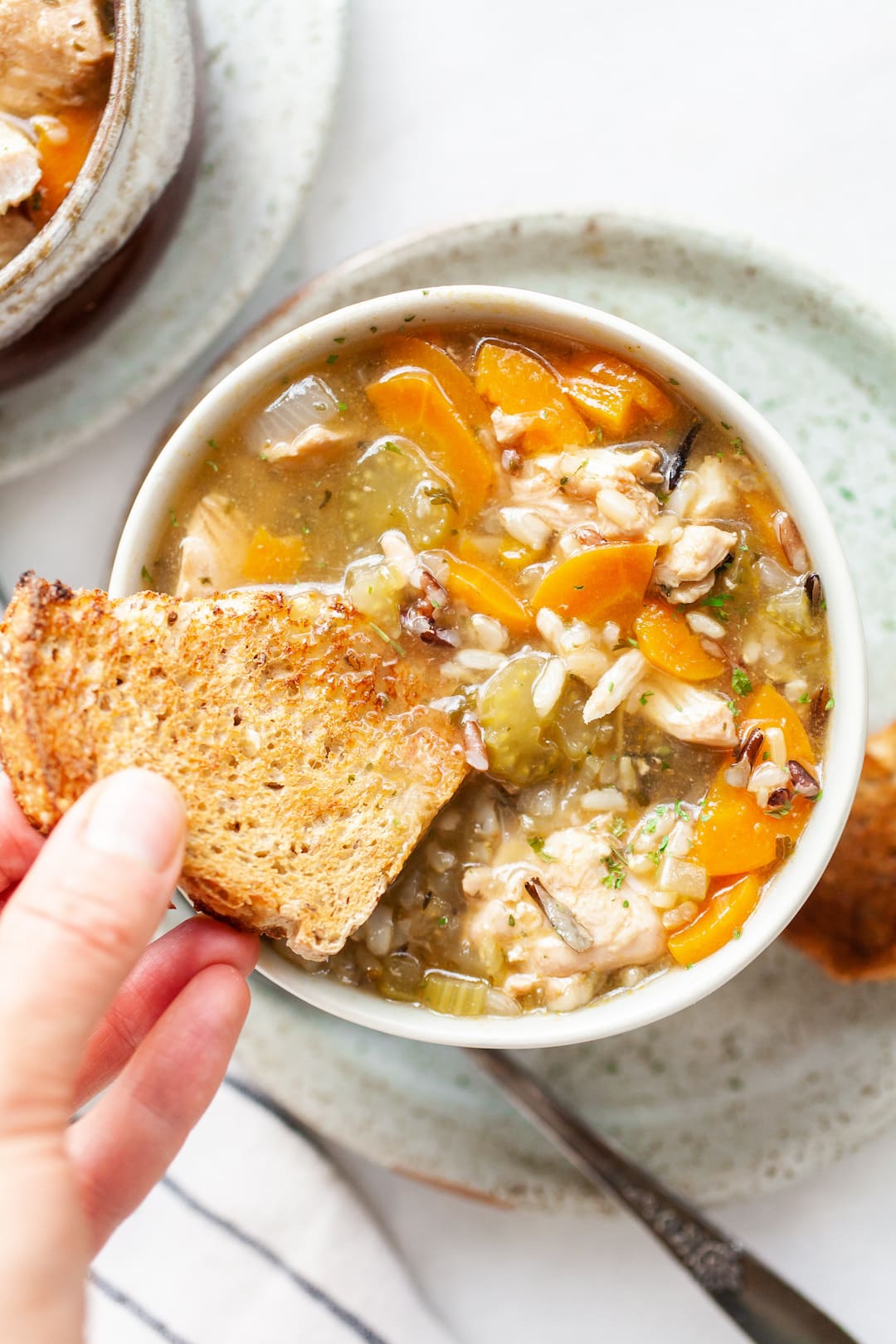 With cooler weather at our doorstep it's the perfect time for a comfort-food recipe. This chicken and rice soup is an older recipe on the blog but I'm bringing in fresh new photos and a new way to make this delicious soup… in the instant pot!
This is actually probably the easiest chicken soup you'll ever make…it's seriously fool proof. Not only is it minimal in ingredients, there's truly only 2 steps to follow and you only need one tool, the instant pot.
You can also try the stovetop method (listed in the recipe instructions ) which is also very quick and easy!

Can you cook rice and meat at the same time in an instant pot?
Yes! When it comes to making this soup in the instant pot, you throw both raw chicken and uncooked rice in the instant pot at the same time. Both cook to perfection with the right amount of liquid so you do not need to cook the chicken or the rice separately ahead of time.
If you are making another dish with meat and rice, you can cook them together in the instant pot so long as you have enough liquid to cook the rice. You will have to work with the usual rice:liquid ratio, then add an additional amount of liquid to ensure that the rice and meat to not stick to the bottom and burn.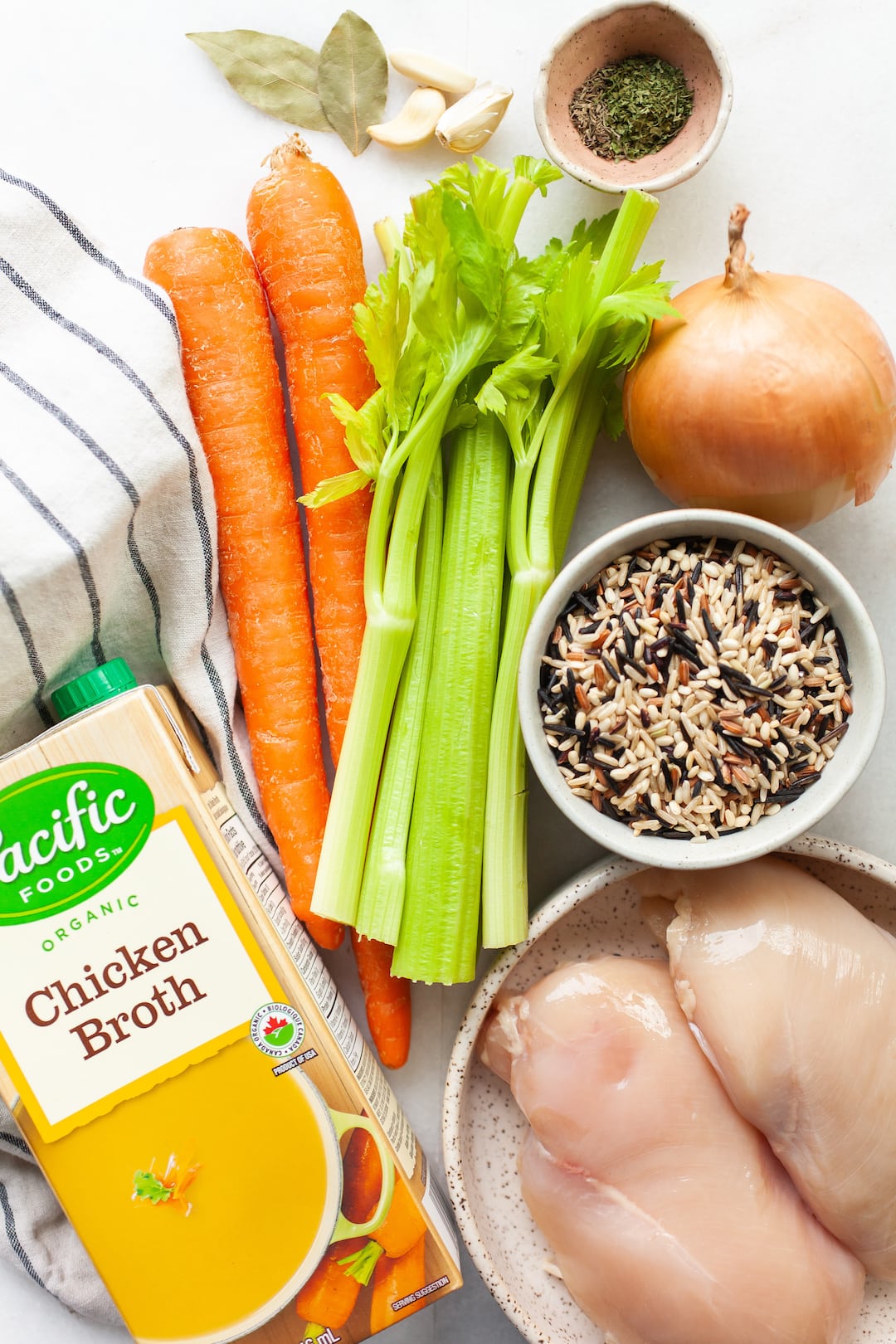 Ingredients For IP Chicken and Rice Soup
You will only need a handful of ingredients to make the soup and the whole recipe comes together in less than 30-minutes! That's pretty amazing for a soup that tastes like grandma made it in her little outdated kitchen with a dash of love and kindness and a simmer on the stove for hours.
Here's what you'll need:
Skinless, boneless chicken breasts

Wild rice blend

Chicken broth

Garlic

Celery

Carrots

Onion

Olive oil

Dried parsley and thyme

Bay leaf

Salt and pepper
The soup has a traditional chicken noodle soup flavour, but sans the noodles and with the addition of wild rice, loaded with fibre, vitamins, minerals and healthy complex carbohydrates.
It also has the perfect balance of chicken, veggies, and rice (no skimping on the protein here), giving this recipe a really nice nutritional profile which helps to keep you full and satisfied making you feel like you've really had a good meal, not just a little bowl of watery soup.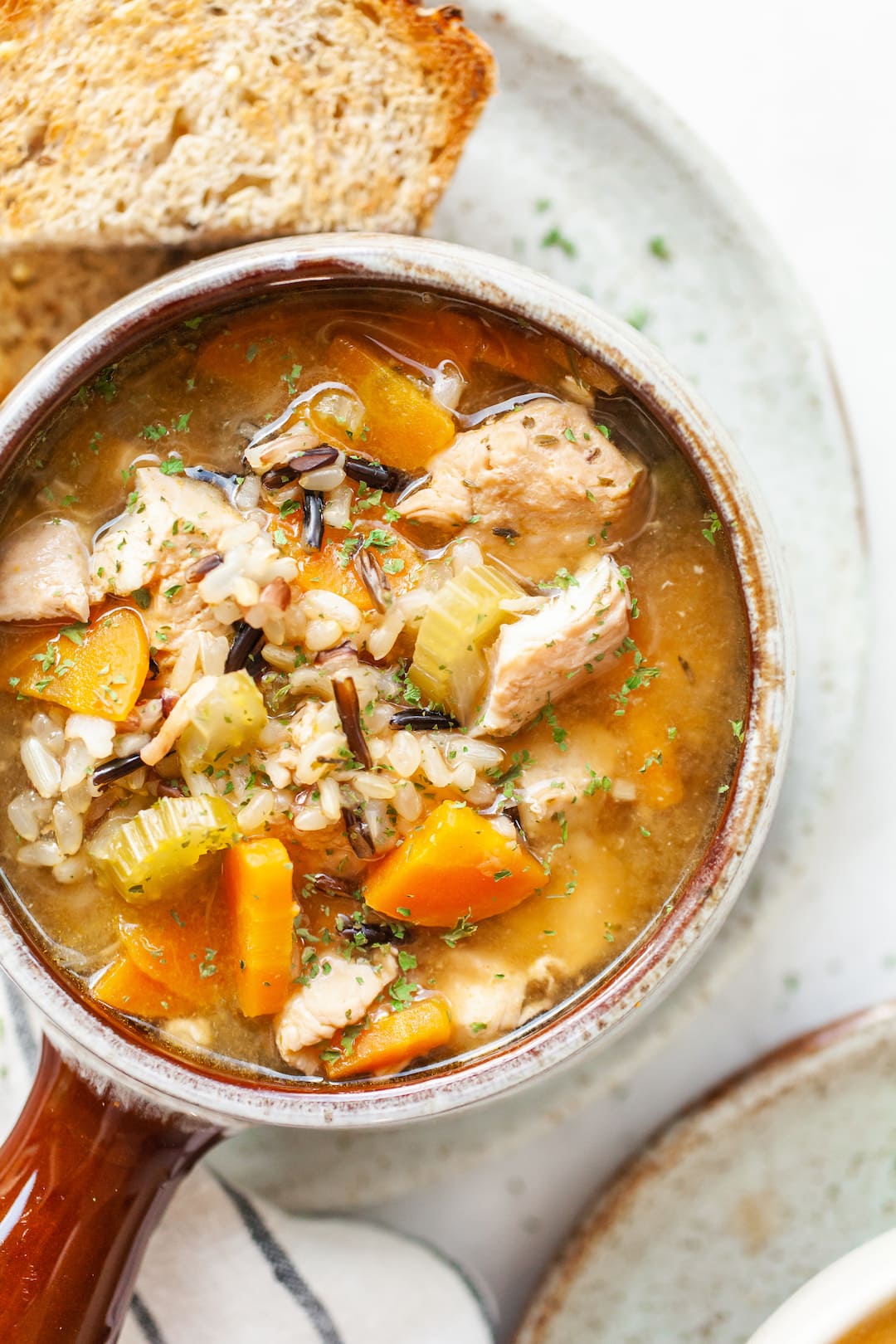 How do you keep chicken rice soup from getting mushy?
One issue that can occur with an instant pot chicken and rice soup is that the rice ends up getting mushy. Nobody likes mushy rice soup.
My solution is to two parts:
Use a wild rice blend instead of white rice. White rice is not only not as healthy but also cooks much faster and can get overcooked and mushy while the chicken still needs time in the instant pot. The combination of a wild rice blend or brown rice is much better because they both take longer to cook and match more evenly with the chicken so that everything has a good texture and consistency. No mushy mushy.

Release steam immediately after cooking time finishes

(vs. waiting for the instant pot to de-pressurize on its own). This way you won't have the soup sitting in the hot instant pot for additional time past cooking which could make the rice end up mushy.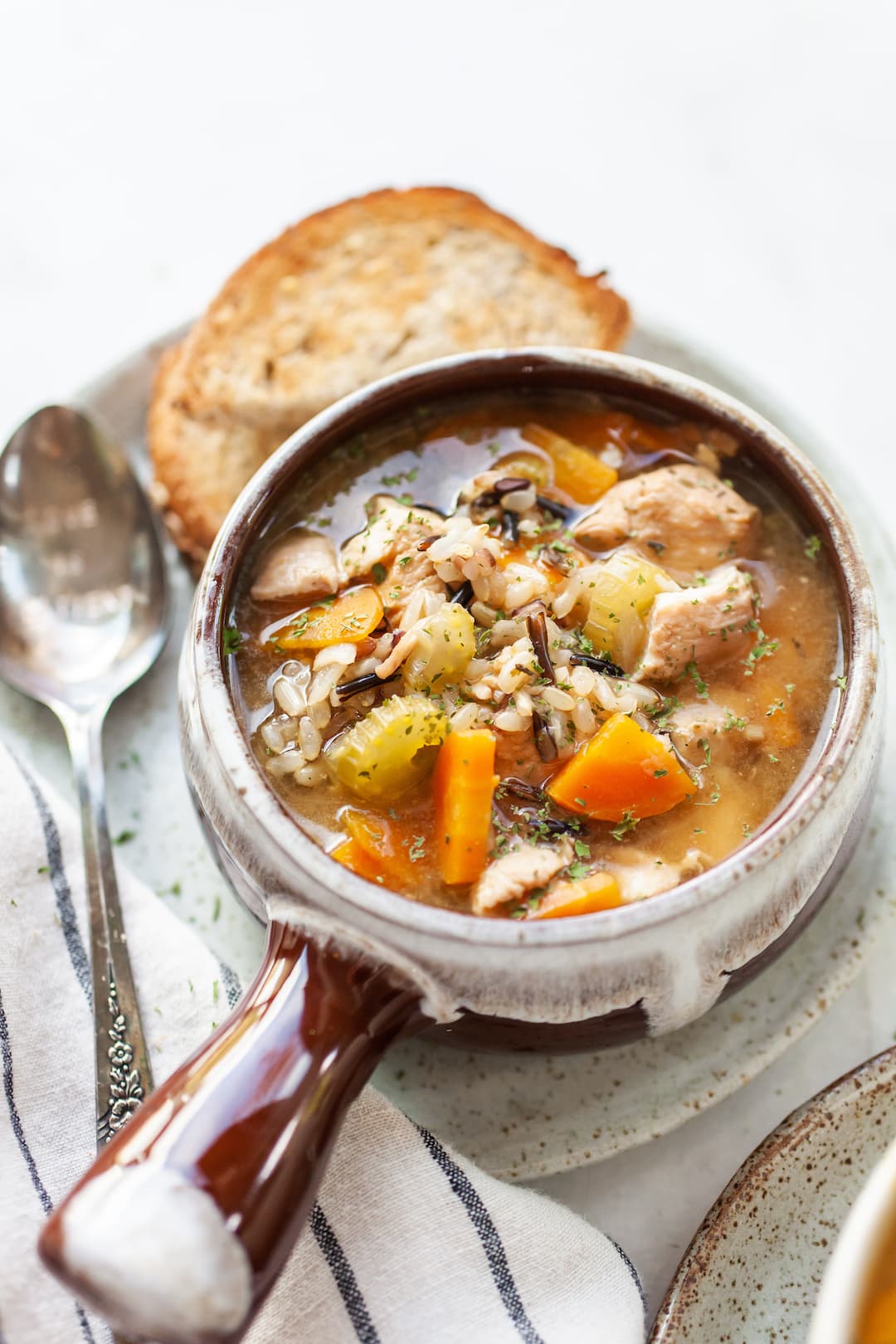 How To Make Step-By-Step
1. Set the instant pot to "SAUTE", then press the sauté button again to select the "MORE" setting and adjust the heat to "HIGH".
2. ADD in the oil, celery, carrots, onion, garlic, thyme, parsley, salt, and pepper to the instant pot and SAUTE, stirring often for 5 minutes.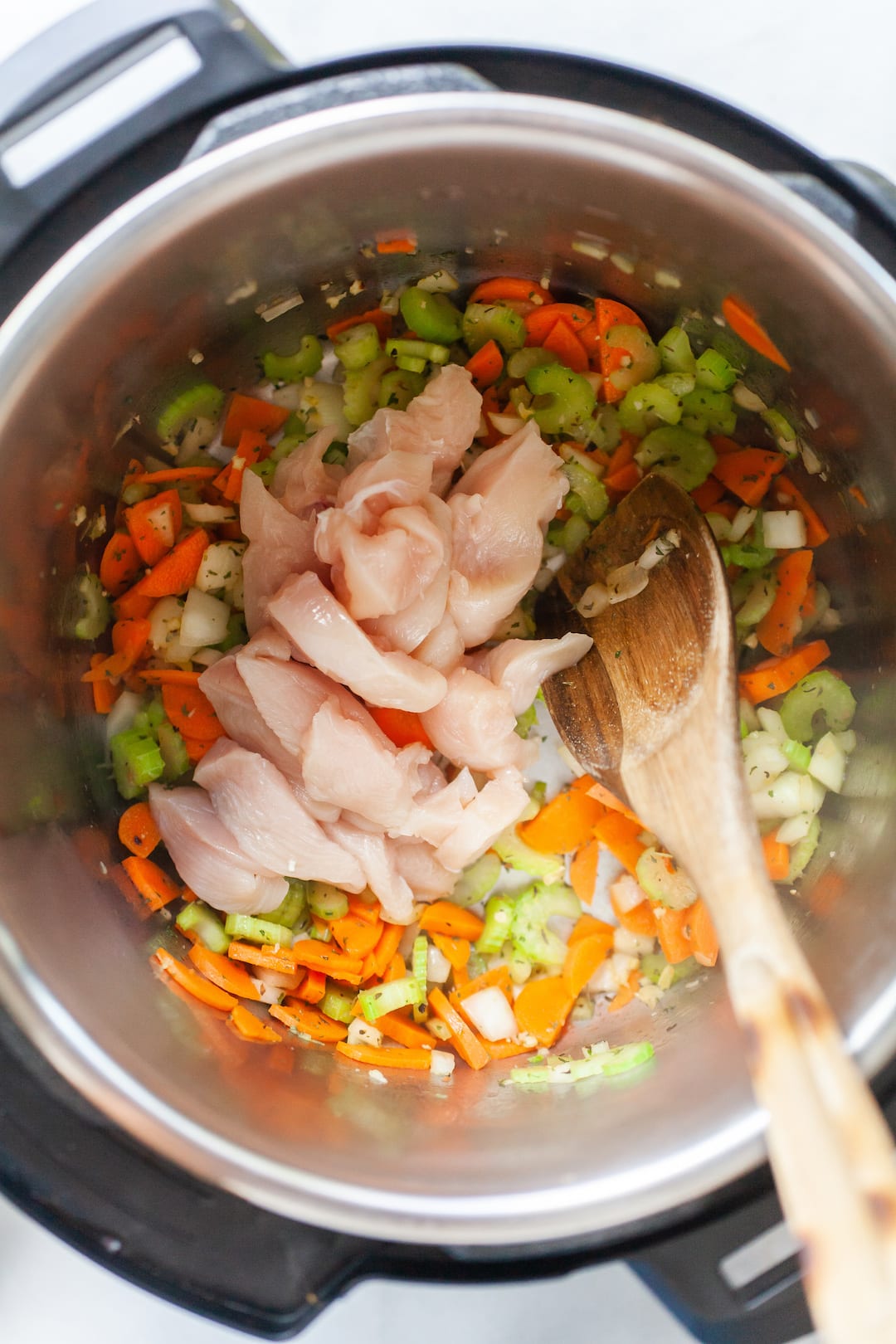 3. ADD in the chicken breast and SAUTE for another 5 minutes, until the chicken begins to slightly brown on the outsides (it does not need to be cooked through).
4. POUR in the broth and uncooked rice then STIR and place the lid on the instant pot and toggle the top valve to "SEALING"
5. Press the "PRESSURE COOK" setting and set to "NORMAL" volume and "HIGH" pressure and set to "20 MINUTES", then wait for it to start (the instant pot will take about 15 minutes to pressurize).
6. Once the cooking time is complete, with a knife or long spoon carefully toggle the top valve to "VENTING" to release the steam.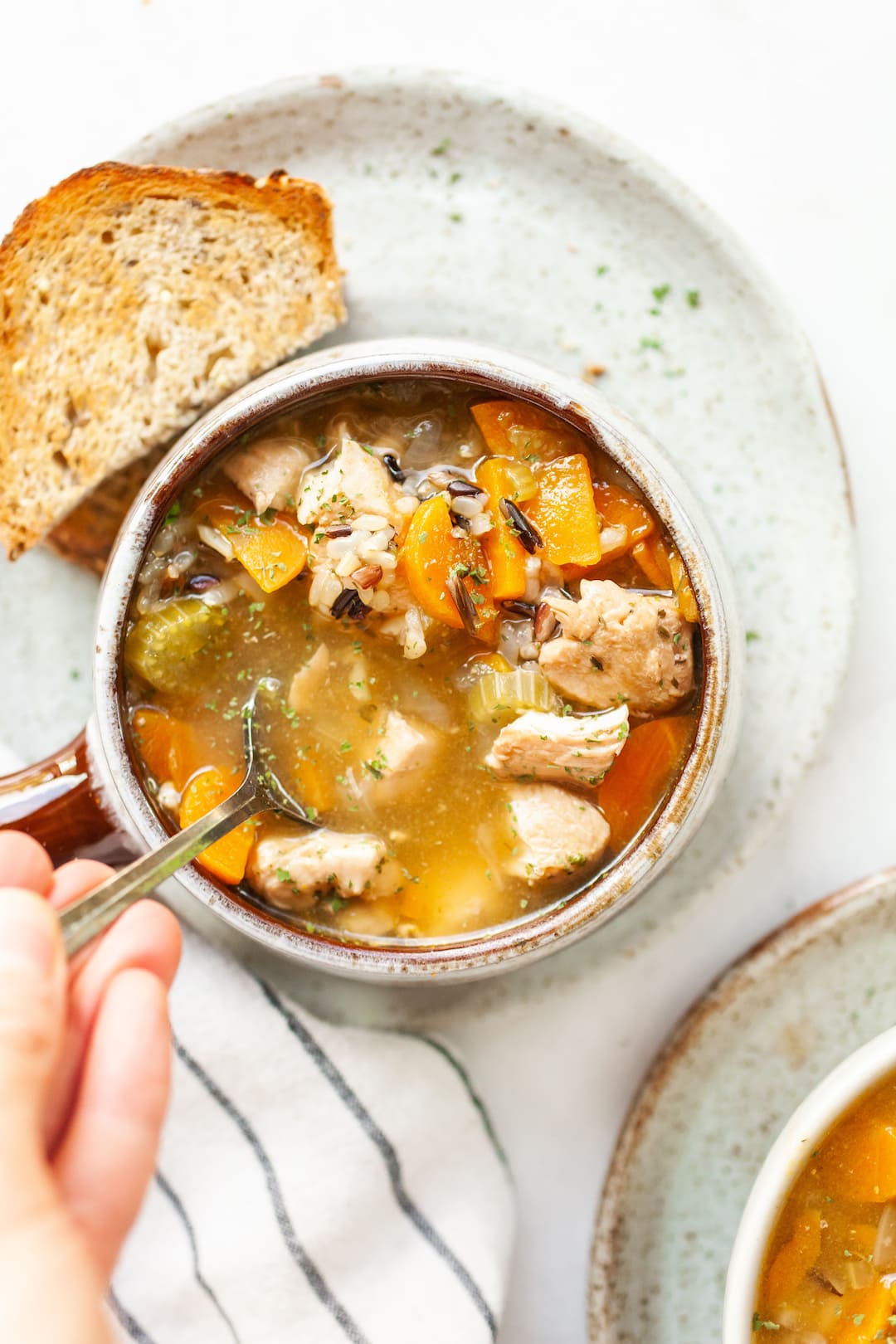 7. Remove bay leaf and SERVE hot soup in bowls with a side of crusty bread and enjoy!
With a side of crusty gluten-free bread (or gluten-full, whatever works for you), this chicken soup is sure to please even the pickiest of eaters.
Hemsley (my 4 year old daughter) is not a fan of wild rice, but when I added some cooked noodles to the mix, she gobbled it up! Also, just to note, this chicken soup freezes wonderfully and makes it a great 'batch' recipe for prepping meals for the week ahead.
If you are looking for another delicious comfort food chicken recipe you need to check out this Coq au Vin from The Endless Meal… or try swap the chicken for Turkey and make this incredible Homemade Turkey Soup!
Pin me!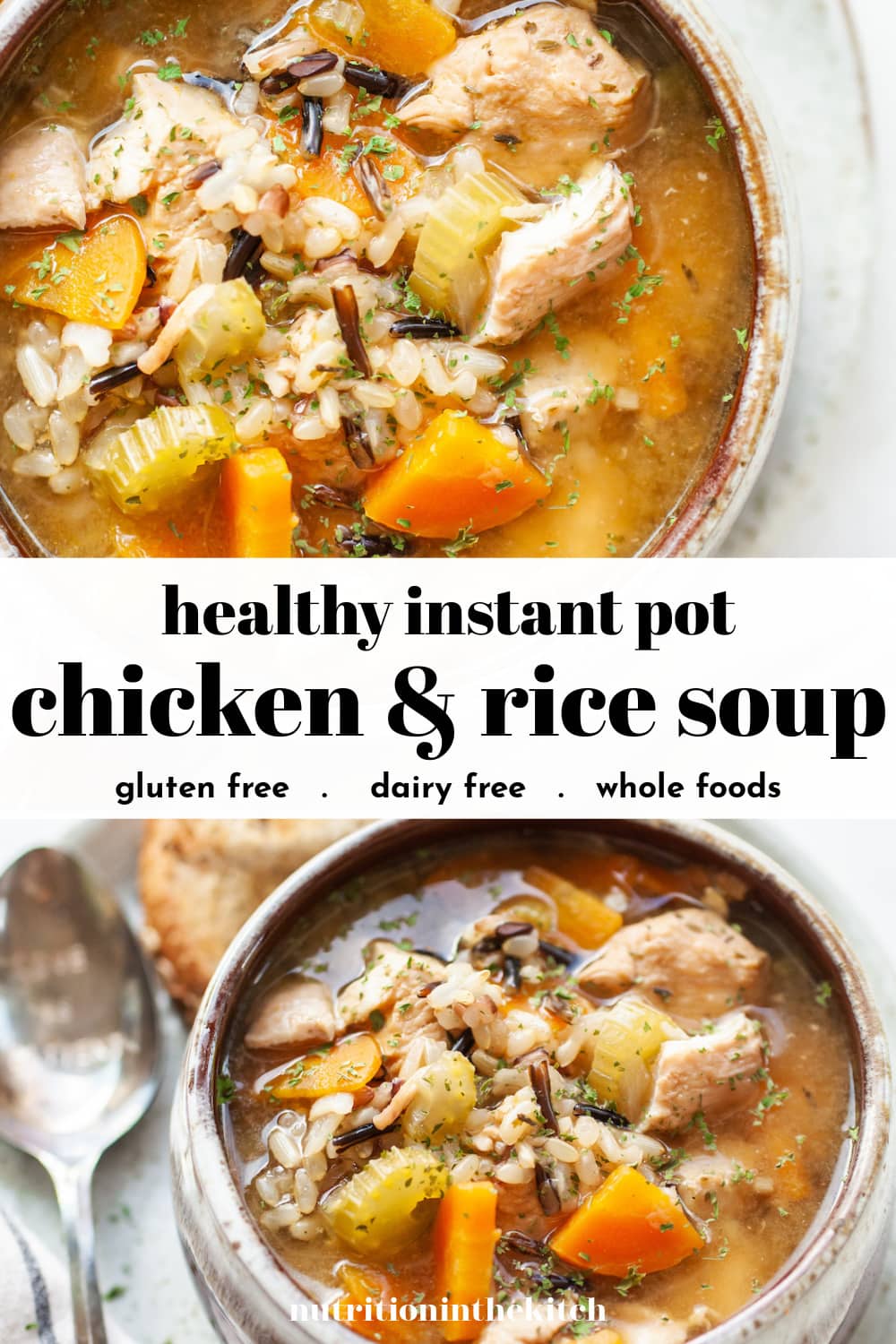 More Soup Recipes You'll Love:
Have a wonderful day!
Christal // NITK