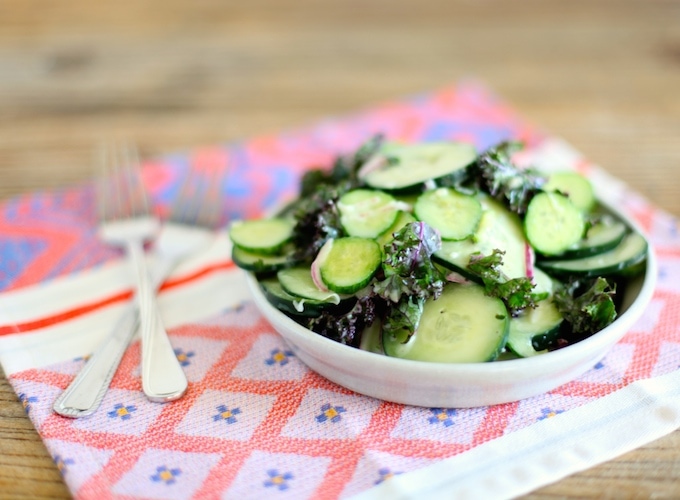 Happy Sunday! Man, I love weekends!
Correction: I love SUMMER weekends! This weekend my Hubster and I went to Jasper (for the second weekend in a row actually!) to enjoy in the splendour that is The Rocky Mountains! We chose to camp this weekend, and although a little chilly at night, it's been splendid.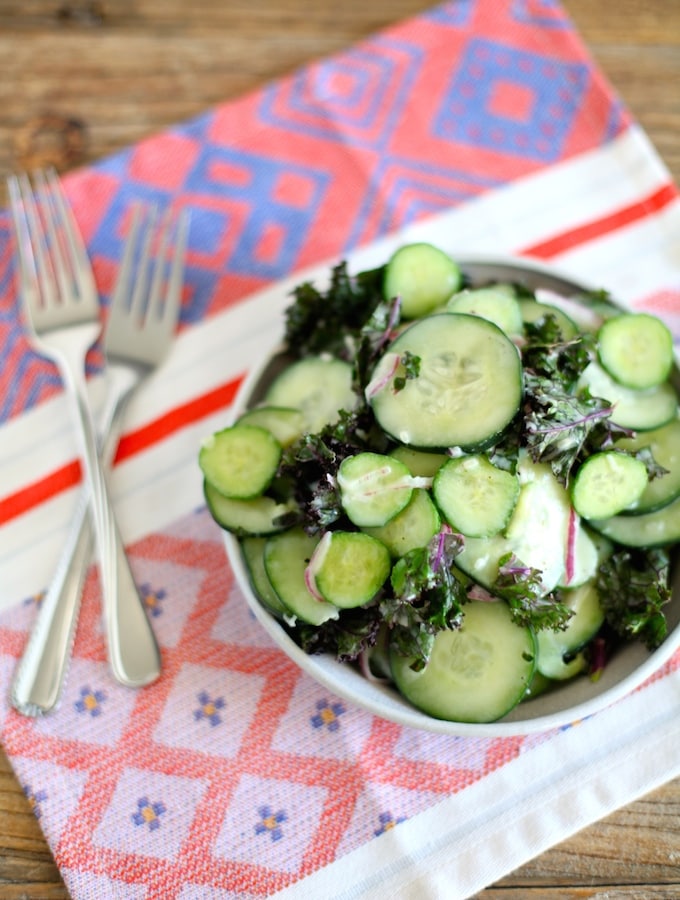 Today's recipe is a P E R F E C T addition to a BBQ or to make a big batch of and take camping like we did! It's light, fresh, tangy, crunchy, and yes… healthy! 
My Mom used to make Creamy Cucumber Salad with green beans when I was younger and it was truly one of my favourites so I decided to put my own twist on this recipe to lighten it up a little and add in one of my favourites… K A L E.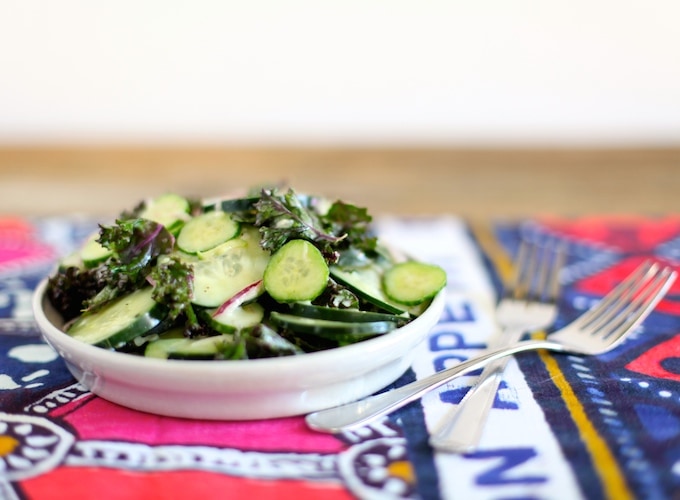 The traditional Creamy Cucumber Salad calls for a whole lot of mayo, sugar, vinegar, and salt to be mixed into a dressing that douses a huge bowl of sliced cucumber. While this IS delicious, I'll admit I gobbled up my Moms recipe with no hesitation, it does need a little healthifying to be fit for NITK! 
I decided to stick with cucumber (can't have a Creamy Cucumber Salad without the cucumber right??) and used both field cucumber and mini cucumbers because I thought the little variation of textures and size would be fun!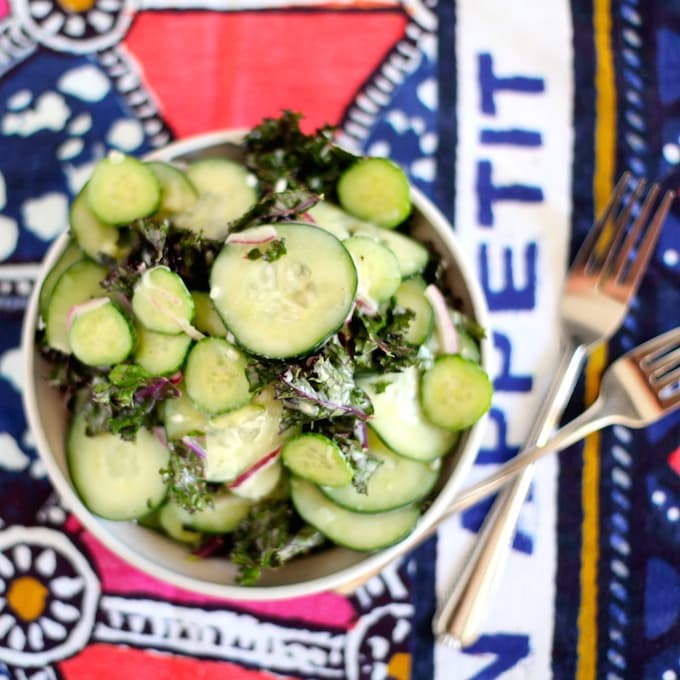 In the salad I also wanted to add something else so I chose kale as it's such a great green for holding lots of flavourful dressing in each little leafy crevice.
The kale and cucumber worked together wonderfully, and I chose to add red onion to bring in some bite! The dressing was a bit of a challenge but I opted to stick with mayonnaise, lessening the amount, and use stevia as a better sweetener option (you can most definitely try honey here too!), white vinegar, salt, and pepper to create a lighter, refined sugar free dressing with ample amounts of zing!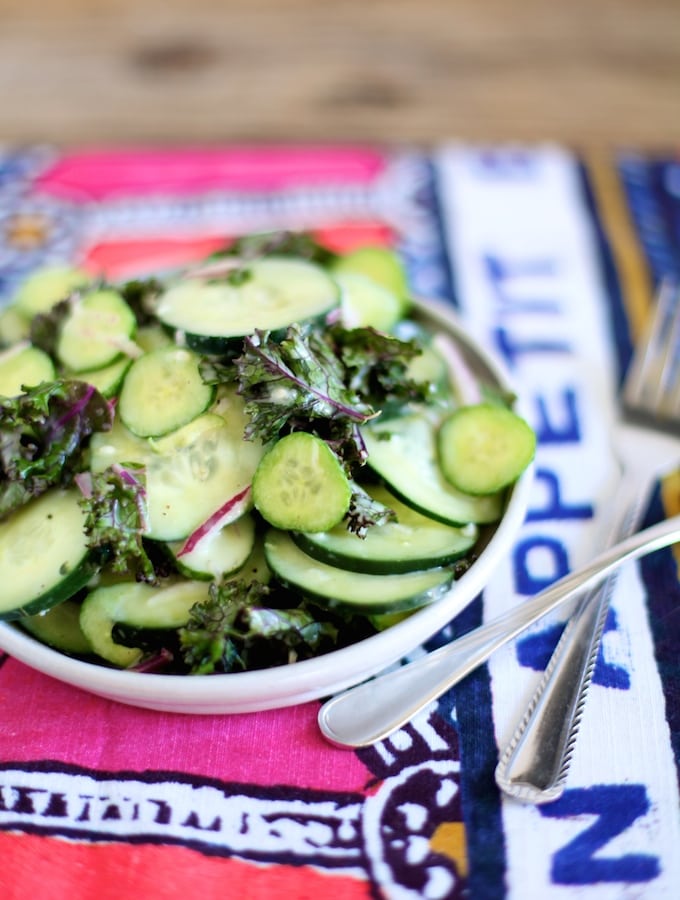 This cool and creamy cucumber salad paired perfectly with our grilled free range beef patties for dinner and it would definitely accompany any grilled protein or a vegetarian burger wonderfully!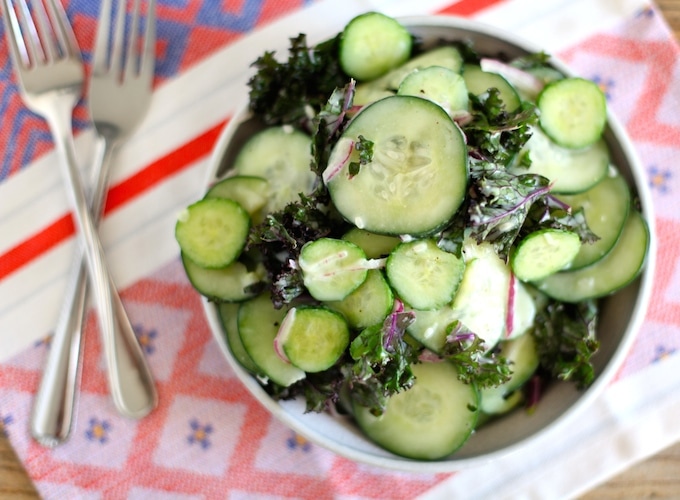 Oh, and not to mention, it's so pretty! Am I right!? 
Do you love the traditional Creamy Cucumber Salad? How would you make it healthier? I'd love to hear in the comments below!  

Lightened Up Creamy Cucumber Kale Salad
Instructions
Slice the cucumber, onion, and chop the kale. Add to a large bowl.
In a small bowl add the dressing ingredients and adjust the sweetener/vinegar to taste preference (I like a tangier dressing over a sweet one). Whisk until smooth.
Pour the dressing over the cucumber onion and kale and toss well to coat.
Place in the fridge for 20 or more minutes to chill.
Enjoy!
Have a fantastic rest of your Sunday!
Christal
Nutritionist in the Kitch