This delicious dairy-free watermelon ice cream is perfect for a healthy, cool treat. It's vegan, gluten free, and so easy to make with no ice cream machine needed (no churn)!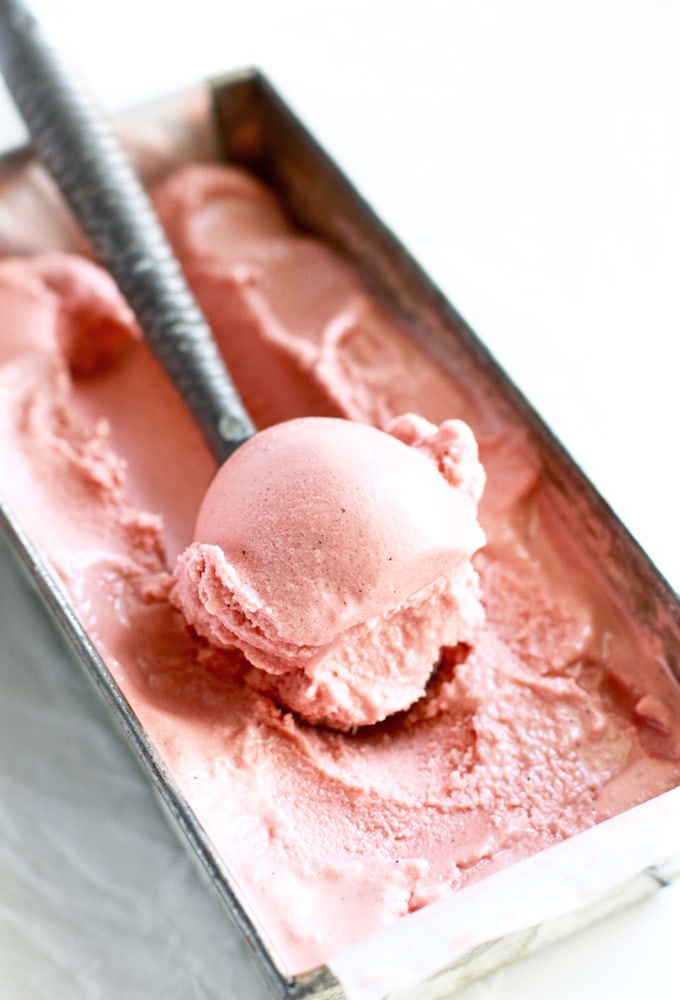 Let's Make Watermelon Ice Cream
It's general consensus that the all-time-favourite summer food for most people is watermelon. Of course there's the odd duck who doesn't like watermelon (seriously?) but for the most part it's a big crowd-pleaser and a must-have at any summer gathering.
On a hot summer day this perfectly sweet, hydrating, juicy, and nourishing fruit definitely hits the spot and it's oh-so-good for you. Watermelon is packed with vitamin C, making it a natural anti-inflammatory and antioxidant, and as the name suggests, it's loaded with water making this fruit a natural diuretic that helps cleanse the body.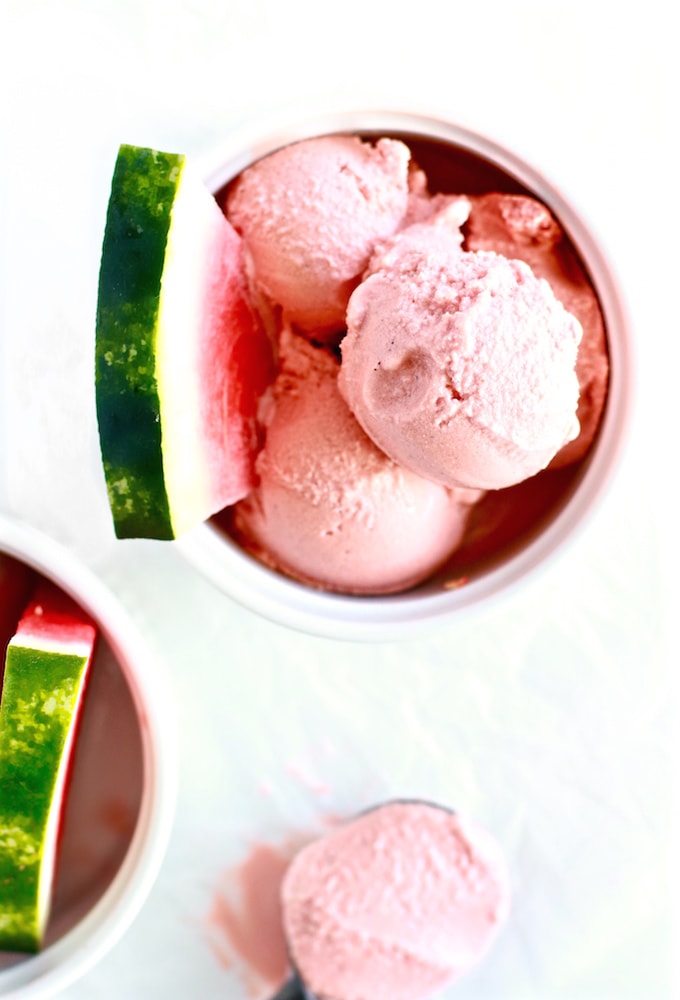 Ingredients for Watermelon Ice Cream
To make this delicious homemade ice cream you only need a handful of ingredients. You don't need a special or pricey ice cream maker and you can do this in just a few steps! Here's what you'll need:
Coconut milk (canned, full fat)
Pitted dates (I prefer medjool dates)

Pure vanilla extract

Watermelon

Salt
The combination of creamy coconut milk with the sweetness from the dates and the touch of vanilla goes perfect with the refreshing and sweet watermelon. The salt is optional but just a touch actually pulls out all the flavours to make them even more intense!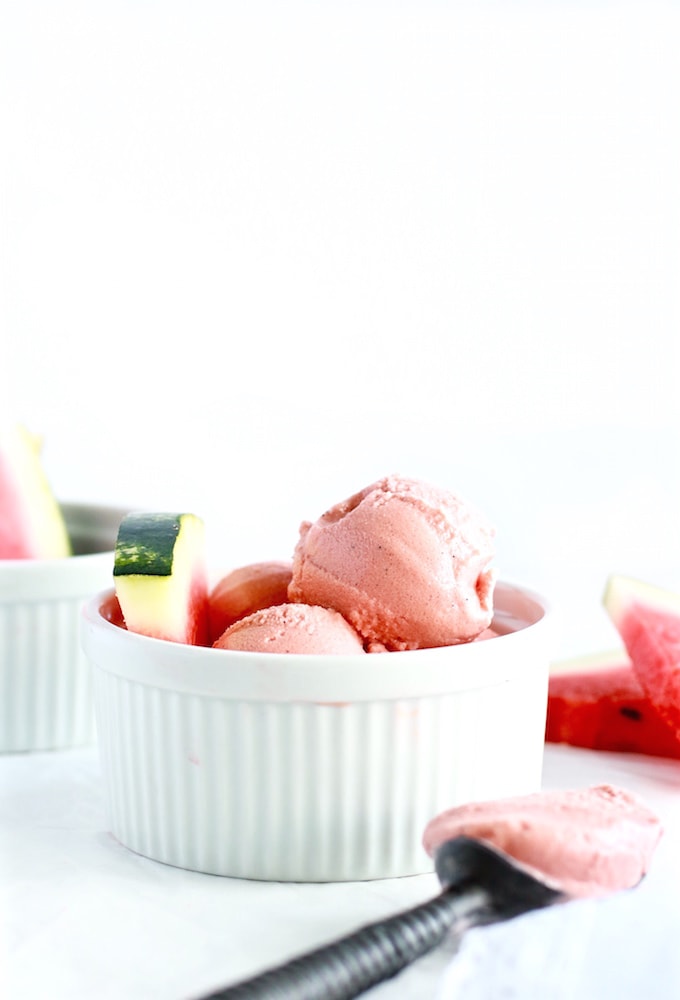 How do you make watermelon ice cream?
Making homemade ice cream doesn't have to seem daunting, especially if you don't have an ice cream maker. All you need is a high-speed blender, like a vitamix, and some patience! Here's what you'll do:
1. Combine the coconut milk, dates, vanilla, watermelon, and salt in a high-speed blender and blender until completely smooth.
2. Transfer to a shallow pan and place in the freezer for 3-4 hours until frozen.
3. Remove from the freezer and break the watermelon into chunks then place them back in the blender.
4. Blend again until a thick, soft-serve consistency is achieved (this method is great if you don't have an ice cream maker).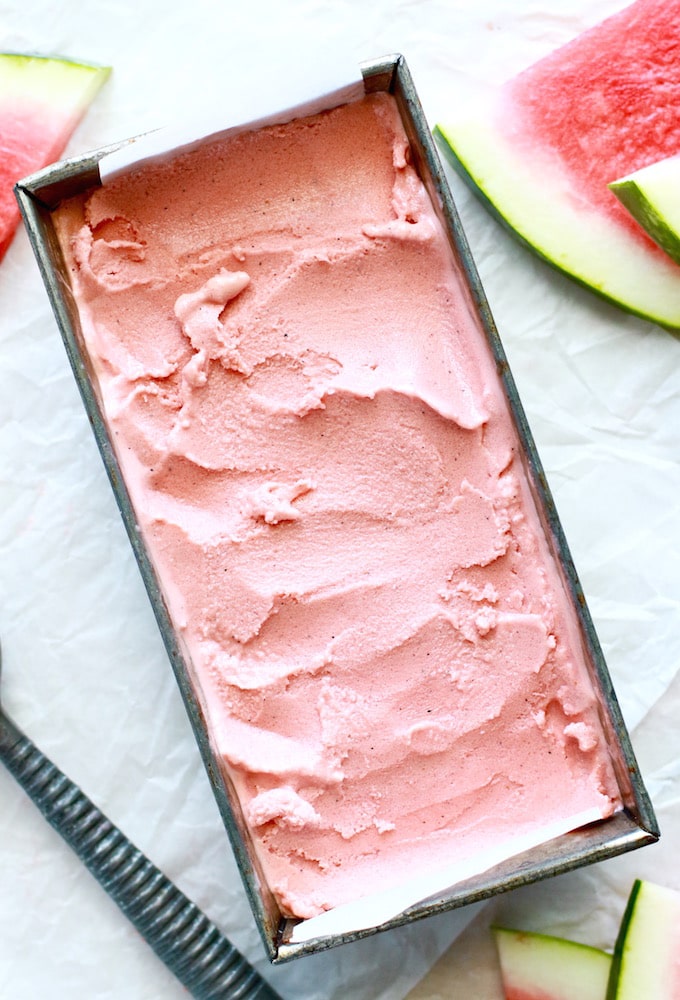 5. Transfer to a loaf pan and scoop, or pop back in the freezer for 30-more minutes if you prefer a harder ice-cream consistency.
6. Enjoy!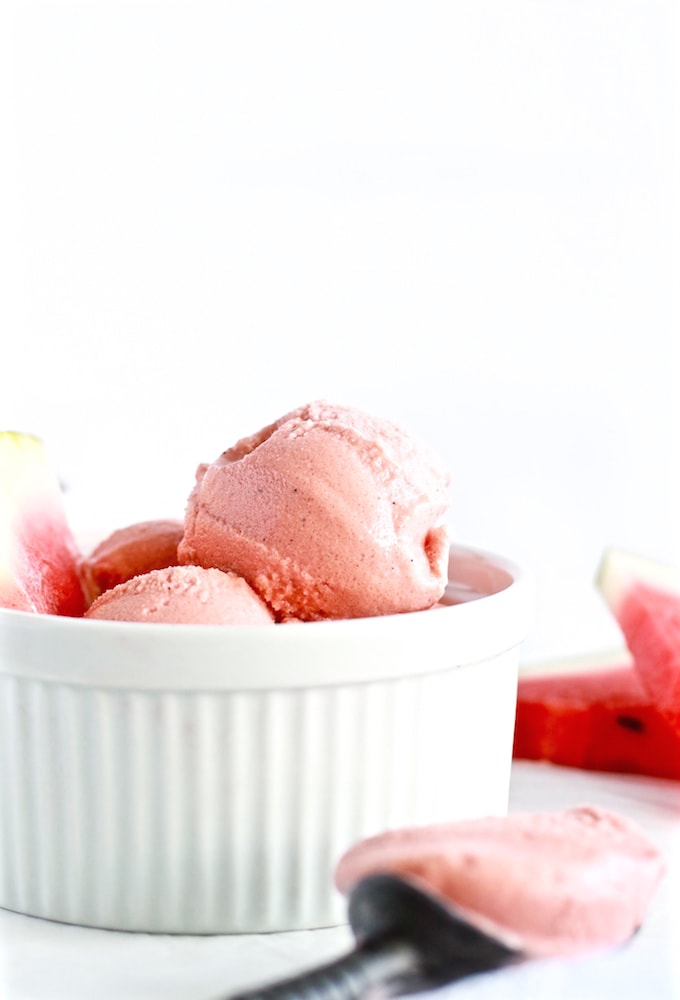 Is vitamix ice cream good?
When it comes to making ice cream in a Vitamix like I do for this recipe, there's a lot of positives. First, you don't need a pricey ice cream machine which you might only use a few times a year, second the cleanup is super easy, and third you can make all kinds of combinations.
I do recommend following the method I've listed for this watermelon ice cream recipe if you are going to try any different flavours with a Vitamix and that is to freeze the blended mixture and then re-blend the mixture again after it's frozen.
Because the Vitamix is a heavy duty high-speed blender, it can handle blending completely frozen hard ice cream into a smooth, creamy, thick and scoop-able consistency.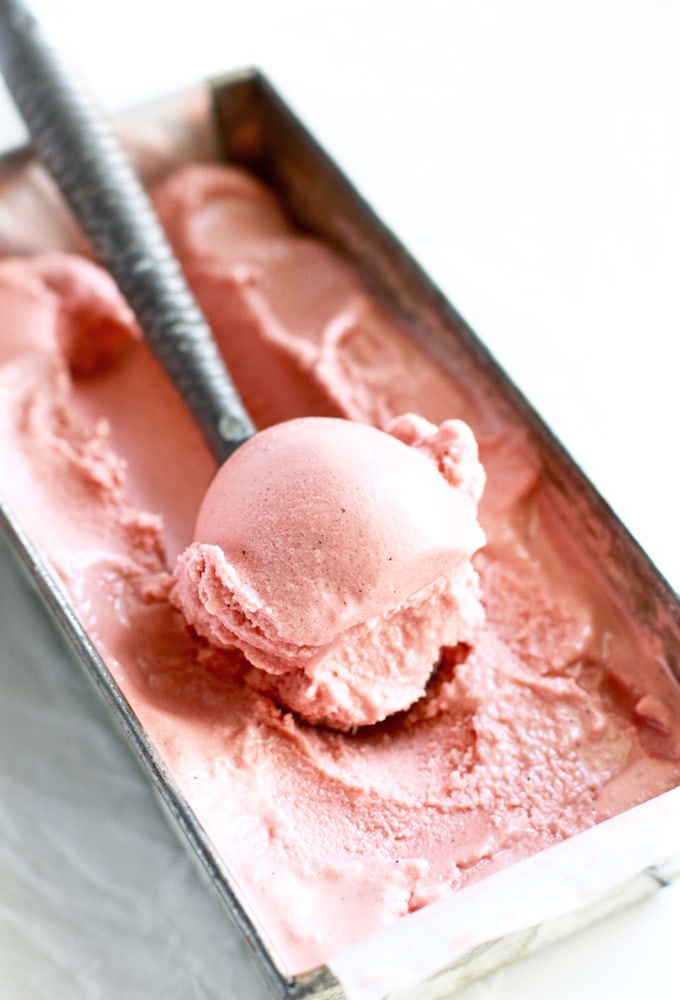 When I put the first spoonful of creamy watermelon ice cream in my mouth I was so pleasantly surprised with the vibrant watermelon flavour. I was a bit worried it would taste too much like coconut but the two flavours worked together beautifully and there was no mistaking that the main ingredient was watermelon…and the pretty pink hue helped too!
Isn't it so great that all you need is a blender and you can make your own ice cream with barely any effort at all?! Next I plan to try apricot ice cream, blueberry ice cream, maybe even coffee ice cream? The sky's the limit my friends!
Pin me!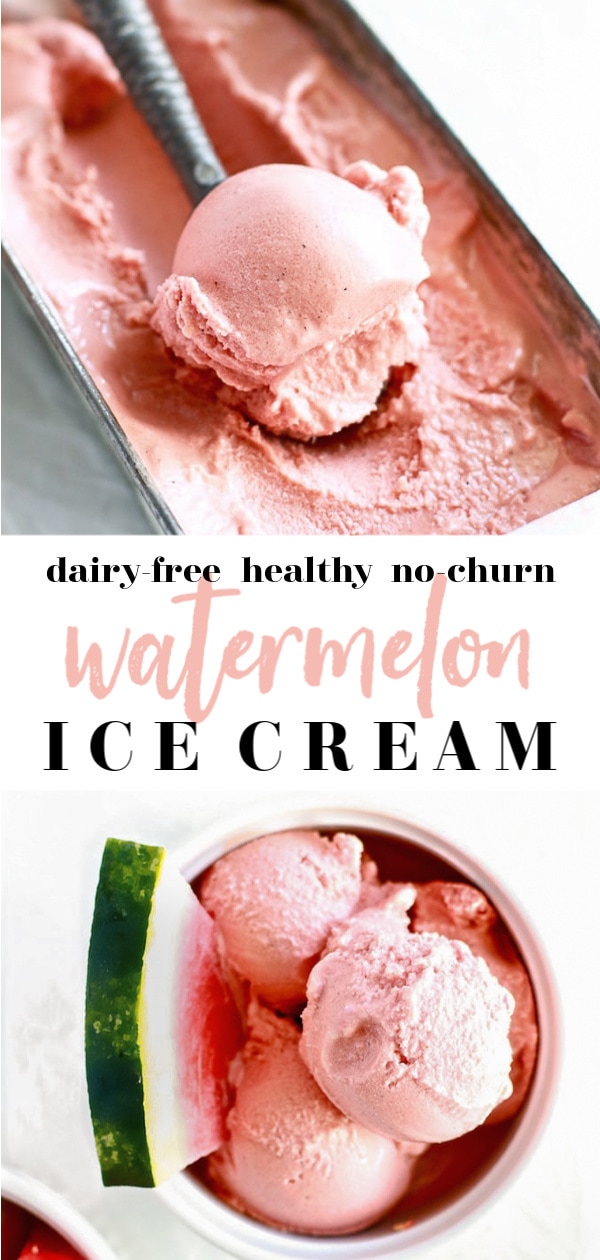 More Recipes You'll Love:
Have a wonderful Sunday!
Christal // NITK