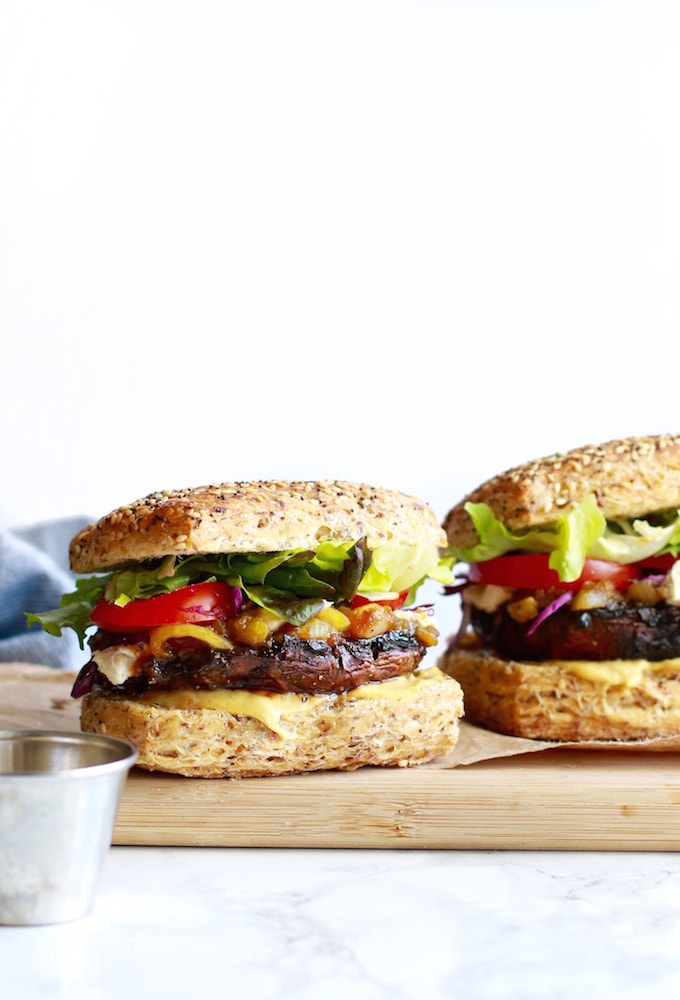 A Tasty Vegan Portobello Mushroom Burger Recipe!
First of all, Happy Canada Day to all my fellow Canucks! I hope you are thoroughly enjoying your long weekend. We are enjoying our time out at the lake, sipping wine, cruising on the boat, and grilling up burgers! Speaking of burgers…I've always been a big fan. Not of fast-food burgers but hearty, homemade (or good restaurant) burgers made a little healthier with all sorts of tasty toppings just like these Portobello Mushroom Burgers with Quick Caramelized Onions. They seriously are "the best"!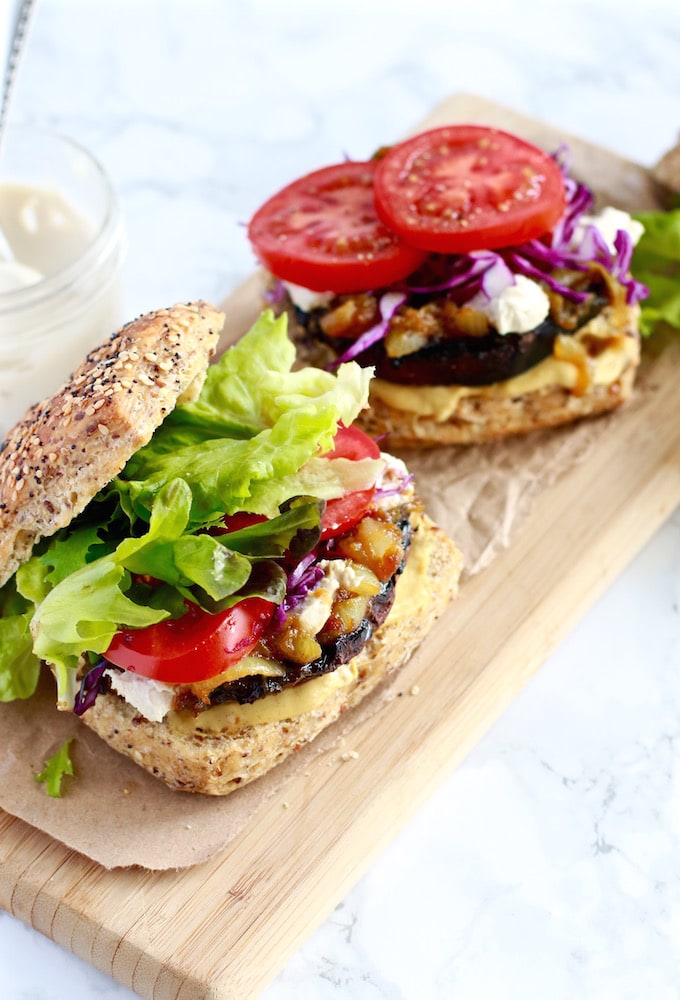 While I love veggie burgers I've always leaned towards those that are made with a mixture of rice, beans, and vegetables. The year I started NITK I made these exact portobello mushroom burgers and at the time I wasn't sure that just a mushroom itself could really be substantial enough to stand in for a burger patty whether it be veggie, chicken, turkey, or beef.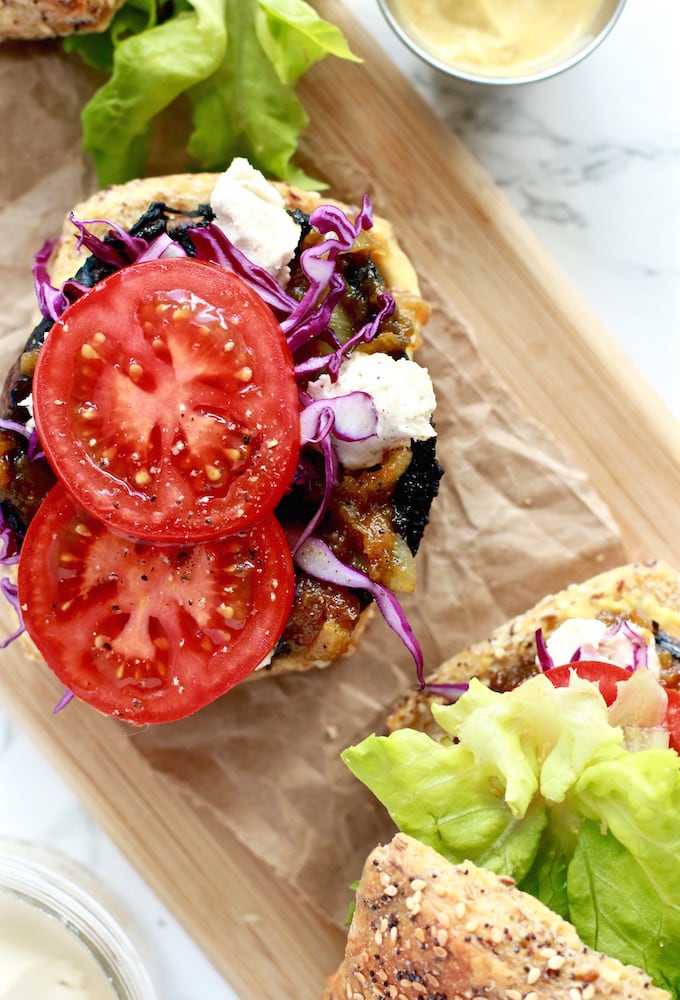 I was pleasantly surprised when I discovered that portobello mushrooms are in fact a perfect burger stand in. If you are a skeptic, just drool over these pictures and put my recipe to the test!
Interestingly when portobello mushrooms are marinated and grilled, then topped with a bunch of delicious ingredients and stuffed in a bun, they barely taste like a mushroom, but rather have a great meaty consistency and wonderful flavor!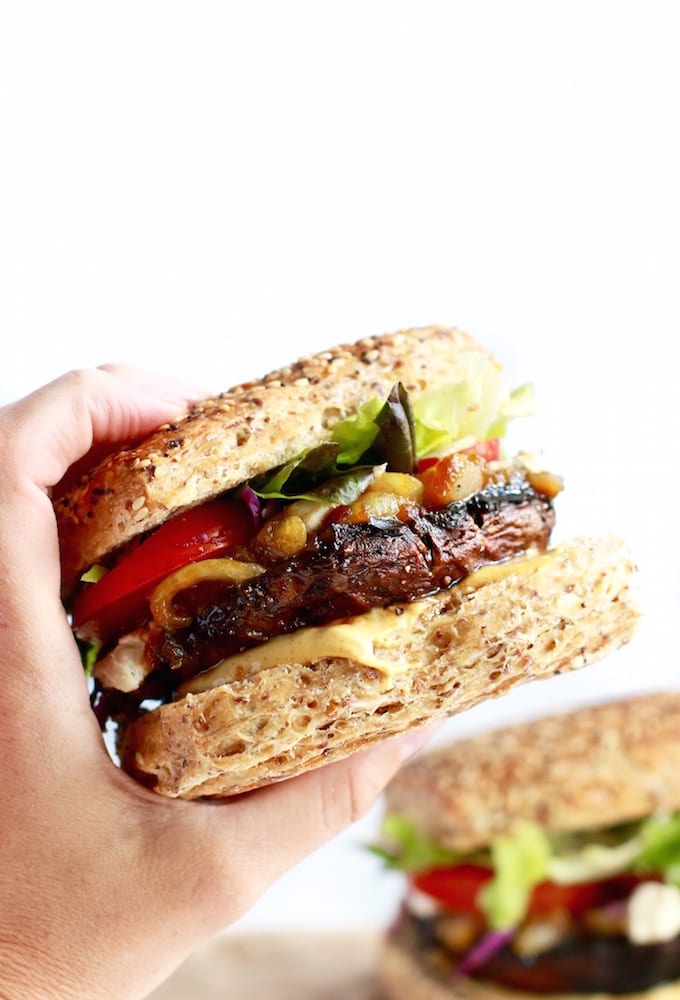 Some Portobello Mushroom Nutrition facts for you….
Portobello mushrooms are a great source of nutrients including selenium and potassium and still contain 5 grams of protein and 3 grams of fiber (in a 1 cup serving). While low in calories these little mushrooms still have a meaty texture and are quite filling. Along with selenium and potassium they also contain B vitamins, potassium, and copper!
Along with the mushroom I chose to add quick caramelized onions and cashew nut cheese as complimentary burger toppings along with crunchy cabbage, juicy tomato, and crisp lettuce. The combination is stellar. Tangy sweetness from the onions and creaminess from the cashew cheese compliment the meaty portobello perfectly.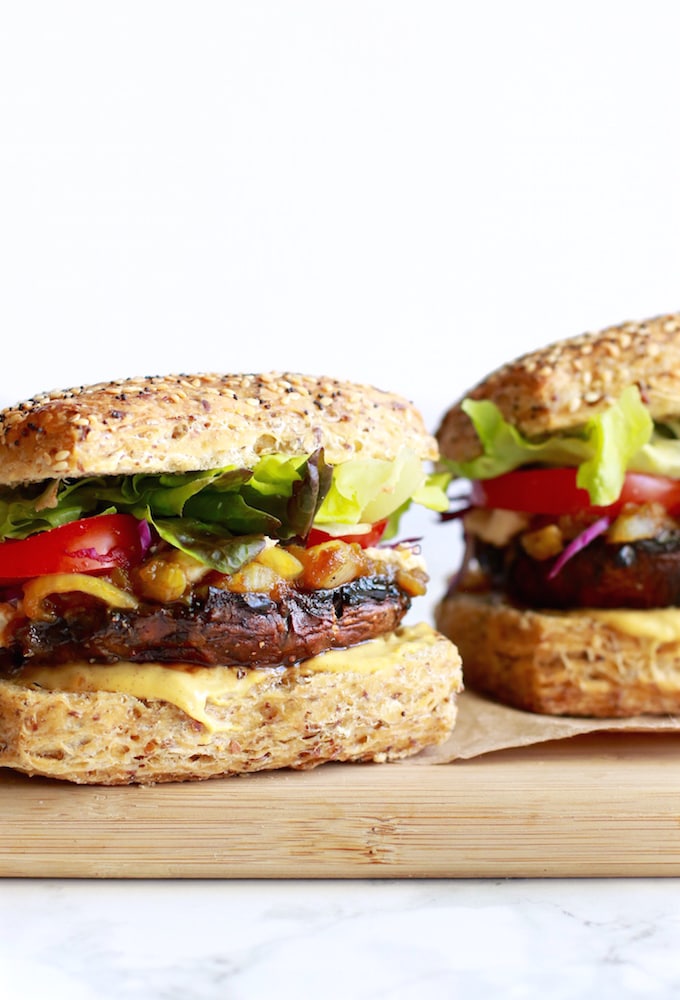 I'm not going to lie, it was slight torture trying to get through taking these pictures without biting into this juicy, flavorful, stack of deliciousness.
Have you made portobello mushroom burgers before? What's your favourite kind of veggie burger stand-in? I'd love to read about it in the comments below! 

Portobello Mushroom Burgers with Quick Caramelized Onions
Ingredients
4 portobello mushrooms, stems removed
2 tbsp balsamic vinegar
1 tbsp olive oil
1 cup sliced sweet white onion
1 tablespoon coconut palm sugar
¼ tsp baking soda
4 tablespoons cashew cheese or goat cheese (I used local Truffula Cashew Cheese)
¼ cup thinly sliced red cabbage
1 large tomato, sliced
2 cups mixed greens lettuce
4 tsp Dijon mustard
4 gluten-free burger buns or your favourite burger buns
Instructions
Preheat the grill.
Take a large ziploc, and place mushrooms in the bag, add the balsamic vinegar and 1 tablespoon of olive oil, and seal bag. Shake the bag until the mushrooms are coated in the vinegar and oil. Let sit for a few minutes while preparing the other ingredients.
Heat a non stick pan over med-high heat add in the sliced onions and coconut palm sugar, toss to coat the onions with the sugar, then add in the baking soda and toss to coat again.
Lower heat to medium, and cook the onions, stirring often until they are soft and browned, about 10 minutes.
Remove mushrooms from ziploc and place on the heated grill, rounded side up. Let cook for 3-4 minutes.
Meanwhile, slice tomato, cabbage, and wash lettuce, and prepare any other preferred garnishes.
Turn mushrooms over so they are flat side up and top the inside of the mushrooms with the caramelized onions and bits of the cashew or goat cheese.
Continue to cook for 3 more minutes then remove from grill.
Using your favourite gluten-free buns assemble burgers starting with the dijon mustard, then top with the mushroom filled with onions and cheese, then top with the cabbage, tomato, lettuce, and th other half of the bun.
Enjoy!
Notes
Don't want the bun? These would be great just as a "stack", no bun needed! 🙂
Enjoy the rest of your Sunday and be sure to pin the photo below so you can make this recipe later!

Christal // NITK